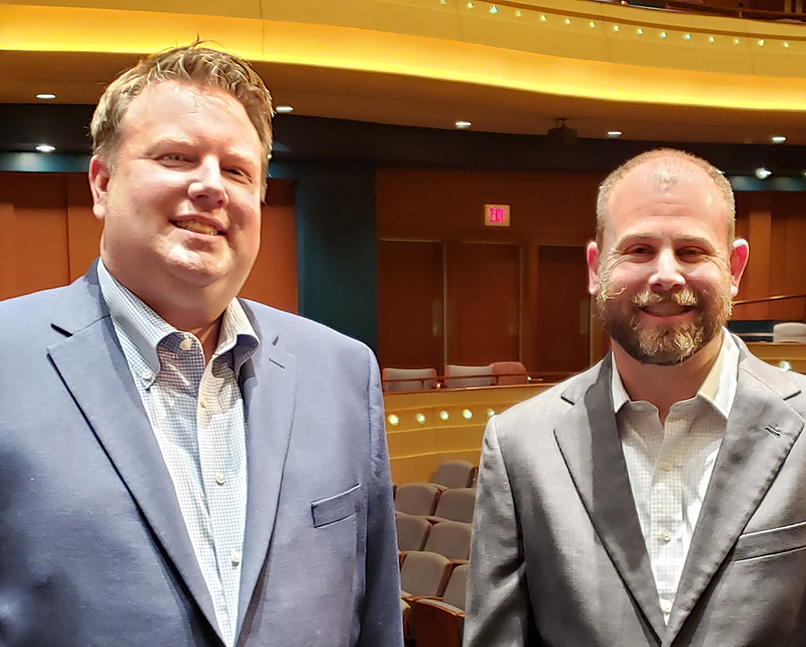 COMING OUT OF THE DARK
Last year we said that the 2019-2020 Season was unlike any other. That's even more true for the 2020-2021 Season. We thought we would have a 20-21 Season when we produced our last community report, but it was not to be. With only a limited season of hybrid performances presented by the Dayton Performing Arts Alliance (DPAA) and a small number of Victoria Theatre community performances, our venues were strangely dark and silent for most of the season.
Several streaming performances were offered by Dayton Live – and to a greater degree by The Human Race Theatre Company and DPAA – and were very well received, but the lobbies and seats remained for the most part empty.
The great news is that signs of life are now apparent.
Through layoffs and furloughs, the Dayton Live staff was significantly reduced by necessity, to the tune of almost 90% of the company. Hiring has now begun with house managers being among the first to return for dance recitals and competitions, corporate, and community events. As we look toward the fall and the true reopening of our venues at full capacity, the anticipation is tremendous, and the planning is frenetic.
During this extended intermission, we have networked with our peers around the country sharing best practices during quarantine and plans for reopening. Members of our senior staff worked closely with Cleveland's Playhouse Square, the Columbus Association for the Performing Arts, and the Cincinnati Arts Association to not only successfully advocate at the state level for funding, but also to create best practices for safety and cleaning protocols. We have also advocated for the best touring Broadway shows available and the future looks bright with HAMILTON, CATS, and COME FROM AWAY all on the calendar. Season Ticket numbers are higher than they've been in 15 years.
We are grateful for the support of local, state, and federal leaders who have worked on our behalf to offer several programs that have helped us survive the last year. Without funding from individual, foundation, corporate, and governmental sources, our future would be greatly in doubt. Thank you to all those who have made our future secure.
Although we anticipate the COVID-19 pandemic may still cause modifications or adjustments to our future plans, the outlook remains strong. Our Dayton community is passionate about the arts and patrons want to be together. We continue to create programs that elevate a thriving downtown experience and bring people together to celebrate. Dayton Live will continue to move forward together and we can't wait to see you at the theatre!

Ty Sutton
President & CEO

Chris Wyse
President, Board of Trustees
SPECIAL THANKS FOR GENEROUS SUPPORT FROM