NP: Tchaikovsky Piano Concerto
Saturday, Sept. 24, 7:30p | Sunday, Sept 25, 3p
New Philharmonic
Kirk Muspratt, Music Director and Conductor
46th Season 2022-2023
Tchaikovsky
Piano Concerto
Kirk Muspratt, Music Director and Conductor
Victor Santiago Asuncion, piano
The McAninch Arts Center acknowledges support from the Illinois Arts Council Agency.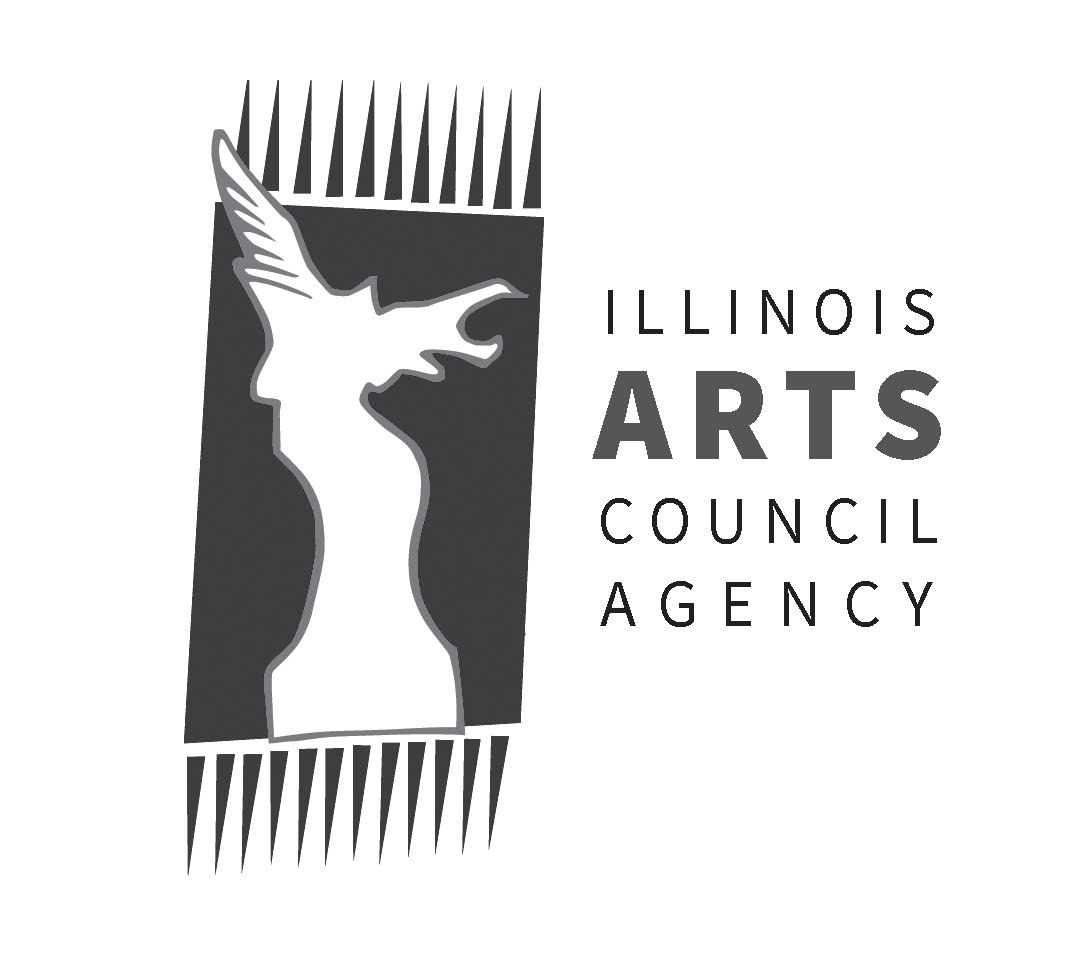 Saturday, Sept. 24, 2022, 7:30 p.m.
Sunday, Sept. 25, 2022, 3 p.m.
Belushi Performance Hall
Welcome!
On behalf of the entire staff, I welcome you to the McAninch Arts Center. We are so happy you are here and welcome you to our MAC family and hope you feel at home. We want this to be your home to unplug and connect to an evening filled with laughter, music, dance, or theatre. We strive to inspire you through unique and inspiring theater experiences. We hope to transcend your expectations with excellent service and special pre and post-show engagement opportunities that help you connect to the artists and art forms more deeply. While you are here, don't forget to take some time to visit the Cleve Carney Museum of Art in the Lobby to experience cutting-edge contemporary art or enjoy our full-service concession area.
When you leave, please stay connected to us by joining us on Facebook (AtTheMac) or by joining our e-newsletter to find out about added shows, events, and special offers (www.AtTheMAC.org). This year we challenge you to try something new at the MAC and expand your cultural palate. We invite you to join us for our free Global Flicks Film Series in February, to attend one of our student productions, or to join us this summer for the Andy Warhol Portfolios: A Life in Pop Exhibition.
We are thrilled that you have joined us, and if you should need anything during your visit, please don't hesitate to ask any of the staff, and we will do our best to accommodate you. We know you have many choices, and we are grateful you chose us. We sincerely hope you have a wonderful time and look forward to entertaining you.
Enjoy the show!

Diana Martinez
Director, McAninch Arts Center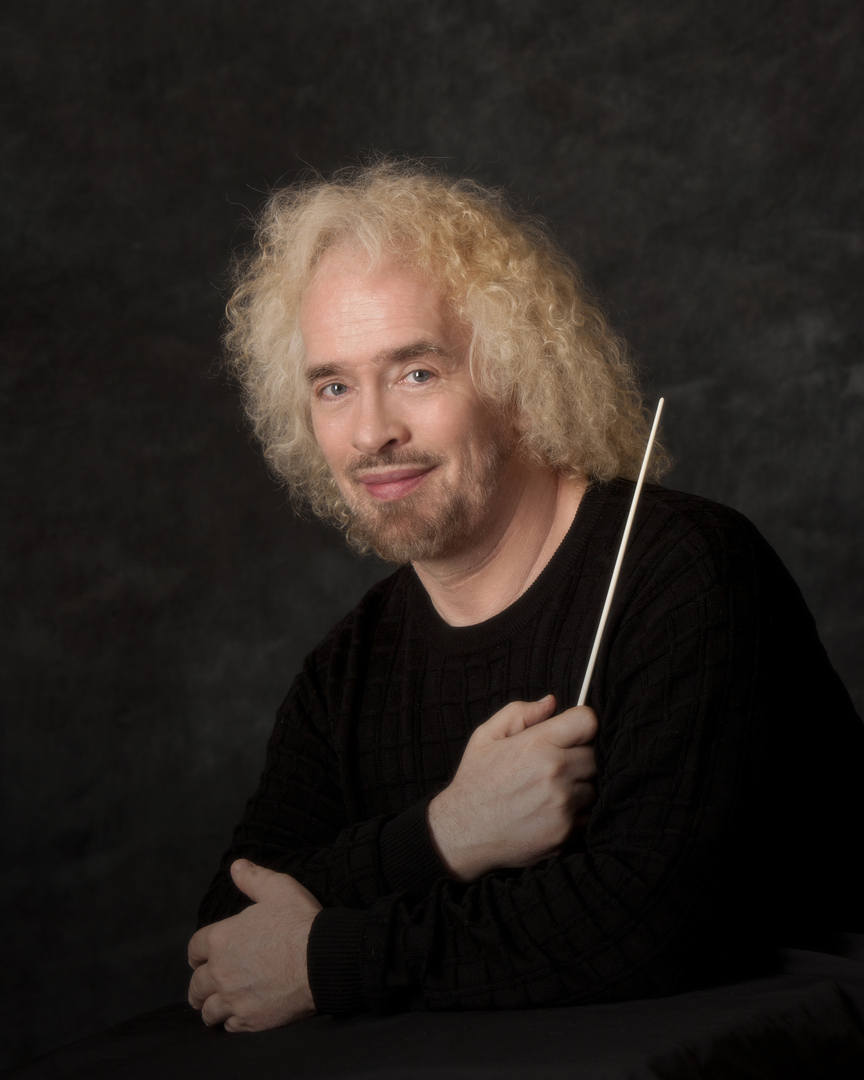 Dear Friends of New Philharmonic,
On behalf of my terrific colleagues, I would like to thank you for being so loyal, so supportive, so enthusiastic in every respect towards this wonderful orchestra!
I hope that this upcoming season will bring you laughter, goosebumps, tears, and a feeling of joy when you attend our performances. I mention "tears" in that Romeo and Juliet is replete with utter heartbreak. I mention "laughter" as we have always such a good time at the Halloween concerts, eh? And, I mention "goosebumps" as both the Hollywood Concerto performances and New Year's Eve concerts should bring tons of these.
If you enjoyed West Side Story last year, we hope that you will join us for South Pacific this season with the world famous Nathan Gunn leading our cast.
Thank you again for being the most important part of each and every of our performances.
And, I look forward to greeting each of you again after the performances at
"Cookies with Kirk!"

Kirk Muspratt, Music Director and Conductor
NEW PHILHARMONIC 2022-2023 SEASON
Tchaikovsky Piano Concerto
Saturday, Sept. 24, 7:30 p.m.
Sunday, Sept. 25, 3 p.m.
Tchaikovsky: Piano Concerto No. 1
Prokofiev: Romeo and Juliet Suites
Victor Santiago Asuncion, piano
Halloween Spooktakular
Saturday, Oct. 22, 7:30 p.m.
Sunday, Oct. 23, 3 p.m.
New Year's Eve Concert:
Saturday, Dec. 31, 1:30, 5 & 8:30 p.m.
Mischa Bouvier, baritone
The CoverGirls Violin Show
Korngold's Hollywood Concerto
Saturday, Jan. 21, 7:30 p.m.
Sunday, Jan. 22, 3 p.m.
Korngold: Violin Concerto in D Major, Op. 35
Sibelius: Finlandia
Enescu: Rumanian Rhapsody No. 1
Esme Aria Kim, violin
Broadway in Concert:
South Pacific
Saturday, Apr. 15, 7:30 p.m.
Sunday, Apr. 16, 3 p.m.
For tickets and information,
New Philharmonic is grateful for season support from: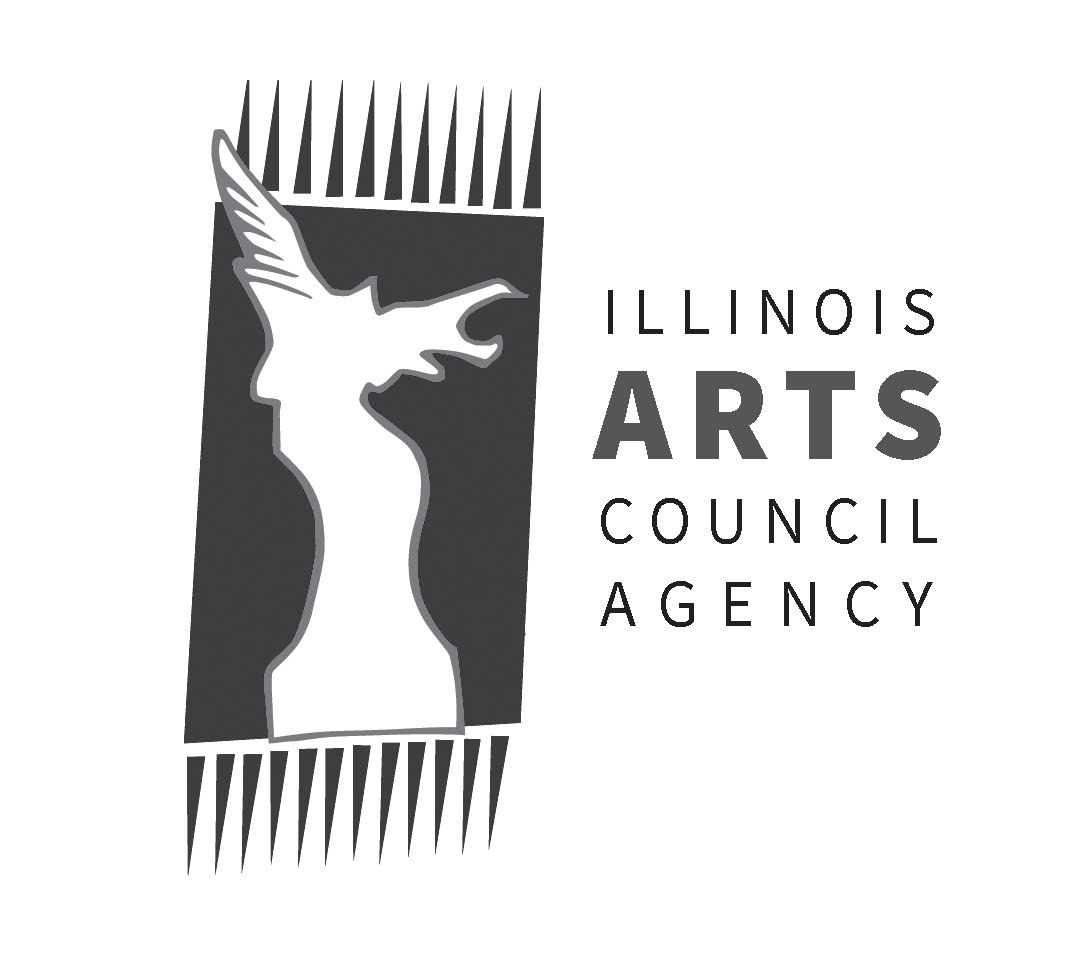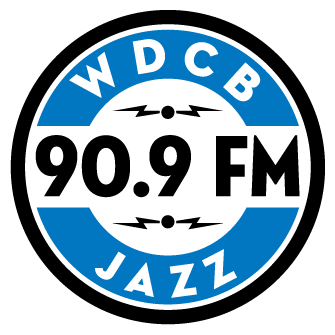 The 2023 Season is presented through the generosity of Bjarne R Ullsvik
Piano Concerto No. 1 in B-flat Minor, Op. 23
Pyotr Tchaikovsky (1840 – 1893)
Allegro non troppo e molto maestoso—Allegro con spirito
Andantino semplice
Allegro con fuoco
Victor Santiago Asuncion, piano
Selections from Romeo and Juliet, op. 64
Sergei Prokofiev (1891 – 1953)
Ryan Morrison and Erika Lawson Morrison, Narrators
Act I
Prologue
Introduction
Juliet, the Young Girl
Romeo Sees Juliet at the Ball
Romeo and Juliet Dance
Balcony Scene
Romeo's Love
Romeo and Juliet's Love Dance
Act 2
Duel of Mercutio and Tybalt
Romeo Avenges Mercutio
Funeral of Tybalt
Act 3
Romeo and Juliet Reunite
Romeo and Juliet Before Parting
Act 4
Juliet Takes Potion
Juliet's Funeral
Romeo Takes Potion
Death of Juliet
Following the performance, please enjoy a complimentary cookie,
sponsored by Brookdale Glen Ellyn.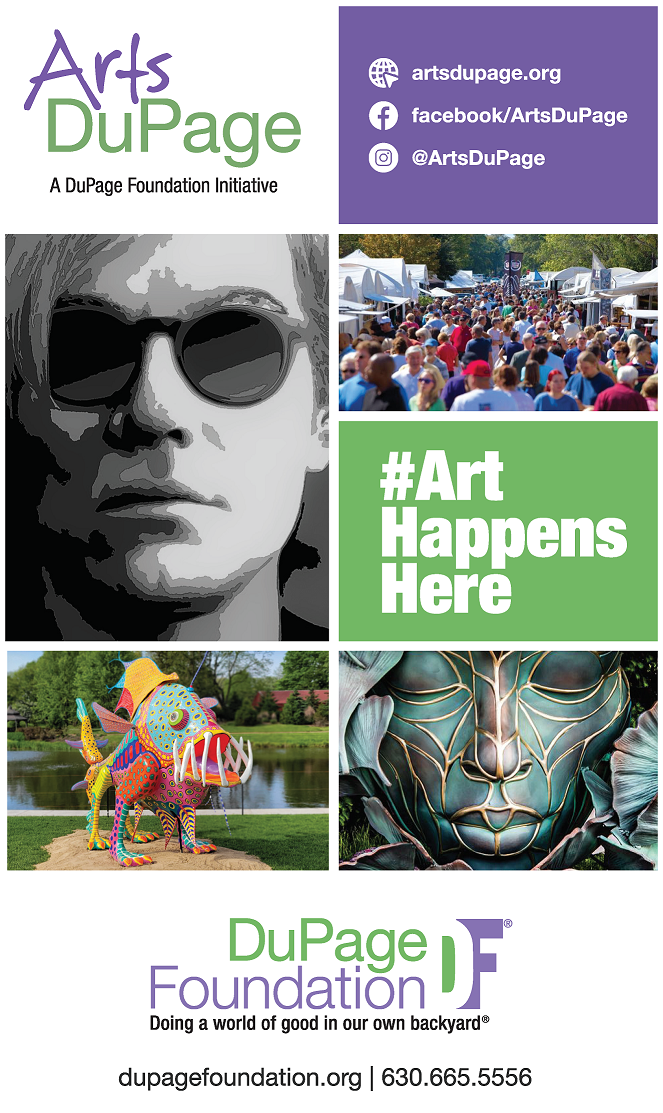 TCHAIKOVSKY
Piano Concerto No. 1 in B-flat Minor, Op. 23
Allegro non troppo e molto maestoso—Allegro con spirito
Andantino semplice
Allegro con fuoco
Pyotr Tchaikovsky
Born May 7, 1840; Viatka, Russia
Died November 18, 1893; Saint Petersburg, Russia

Piano Concerto No. 1 in B-flat Minor, Op. 23
Composed: November 1874-February 21, 1875
First Performance: October 25, 1875; Boston, Massachusetts
Approximate Performance Time: 33 minutes
Instrumentation: Solo piano, two flutes, two oboes, two clarinets, two bassoons, four horns, two trumpets, three trombones, timpani, strings
In a famously wrong snap judgment, Nikolai Rubinstein said that Tchaikovsky's first piano concerto—a concerto the composer wanted him to play—was worthless and, in fact, unplayable. Rubinstein, the director of the Moscow Conservatory and normally an ardent champion of Tchaikovsky's works (he conducted the world premieres of the early symphonies and Romeo and Juliet), was "not only the best pianist in Moscow, but also a first-rate all-round musician," Tchaikovsky later said, explaining why he had approached Rubinstein in the first place.
Tchaikovsky met with Rubinstein at the Moscow Conservatory on December 24, 1874. After playing through the first movement for him, the composer was greeted with complete silence. "If only you knew," he later wrote to Nadezhda von Meck, "what a foolish and unbearable situation it is to offer a friend a dish one has cooked oneself and to have that friend eat and say nothing!" Undeterred, though clearly rattled, Tchaikovsky played on to the end of the concerto. Then Rubinstein didn't mince words, declaring that the concerto was "impossible to play, that the passages were hackneyed, clumsy, and so awkward that there was no way even to correct them, that as a composition it was bad, vulgar." Except for two or three pages, Rubinstein ventured, the score had to be completely redone. Angry and deeply wounded, Tchaikovsky left the room without responding. Later that evening, Rubinstein went to see him at home and, without softening his original appraisal, proposed that if the composer made numerous radical changes, he would reconsider performing it. Tchaikovsky replied, "I will not change a single note and will publish it exactly as it is now!"
On January 9, Tchaikovsky wrote to his brother Anatoly that he had fallen into a "great depression" over the holidays. "There is no one here whom I might call a friend in the true sense of the word," he continued, pointedly referring to Rubinstein, whom until recently he had considered one of his closest friends, and he admitted that he was still recovering from the blow to his composer's pride. That winter, however, he sent the piano concerto to Hans von Bülow, a pianist and conductor best known for his championship of Wagner's music (he led the premieres of both Tristan and Isolde and Die Meistersinger von Nürnberg). "The ideas are so original, so noble, so powerful," Bülow wrote back, "and the details so interesting; though there are many of them, they do not impair the clearness and unity of the work. The form is mature, ripe, and distinguished in style." Although Bülow had retired from the concert stage during the 1860s (after his wife Cosima left him for Wagner) and had only recently resumed his career, he now became the dedicatee of the concerto and agreed to play the premiere of the work in Boston, where it was advertised as a Grand Concerto. "To Boston is reserved the honor of its initial representation, and the opportunity to impress the first verdict on a work of surpassing musical interest," the local announcement boasted, unaware that Rubinstein had already done so. The day after the premiere, Bülow sent what is thought to have been the first cable ever dispatched from Boston to Moscow, telling Tchaikovsky of the concerto's undisputed triumph with the Boston public.
The concerto has been overwhelmingly popular ever since, and in 1941 it even inspired a hit song, "Tonight We Love," which was rather unscrupulously hacked from its broad opening phrases.
The concerto's celebrated introduction, with its radiant string melody riding over the piano's thunderous chords, is both its best-known and most puzzling concept. After a dramatic horn call, Tchaikovsky establishes the "wrong" key of D-flat major and then introduces a theme so splendid, so complete, and so satisfying as it stands that, despite audience expectations, it will never return. Although this makes for a potentially lopsided design (with the most familiar music over before the concerto proper begins), Tchaikovsky's subsequent material is of such dazzling color, flair, and orchestral brilliance that the remainder of the score is not a letdown, even after such a breathtaking opening chapter.
The main body of the first movement—it begins with nervous, jumpy passagework—introduces a clarinet melody Tchaikovsky said he heard played by an itinerant musician at a local fair. This is a large, finely detailed movement, filled with characteristic Tchaikovskian touches like the barrages of quadruple octaves in the piano solo, and capped by an expansive cadenza.
The remaining two movements are brief in comparison. The Andantino is part slow movement, part scherzo; it's all lightness and effortless charm. The main theme of the playful midsection is based on "Il faut s'amuser et rire" (Laugh and enjoy yourself), a chanson associated with Belgian soprano Désirée Artôt, whom Tchaikovsky courted in the late 1860s, and, at least for a few days, even thought of marrying. The finale includes a Russian dance derived from a Ukrainian melody and ends with a majestic coda that manages to match the grandeur and sweep of the concerto's opening without once recalling its main theme.
A postscript on first impressions. It didn't take long for Nikolai Rubinstein to admit his mistake, and shortly after the premiere he began to play the concerto with great success—"What was impossible in 1875 became thoroughly possible in 1878," Tchaikovsky observed. He quickly became a celebrated interpreter of the work, and the composer and the pianist-conductor renewed their friendship. After Rubinstein's death in 1881, Tchaikovsky composed a piano trio in his honor and dedicated it "to the memory of a great artist."
Program note by Phillip Huscher, program annotator for the Chicago Symphony Orchestra. Reprinted with permission ©2022 Chicago Symphony Orchestra Association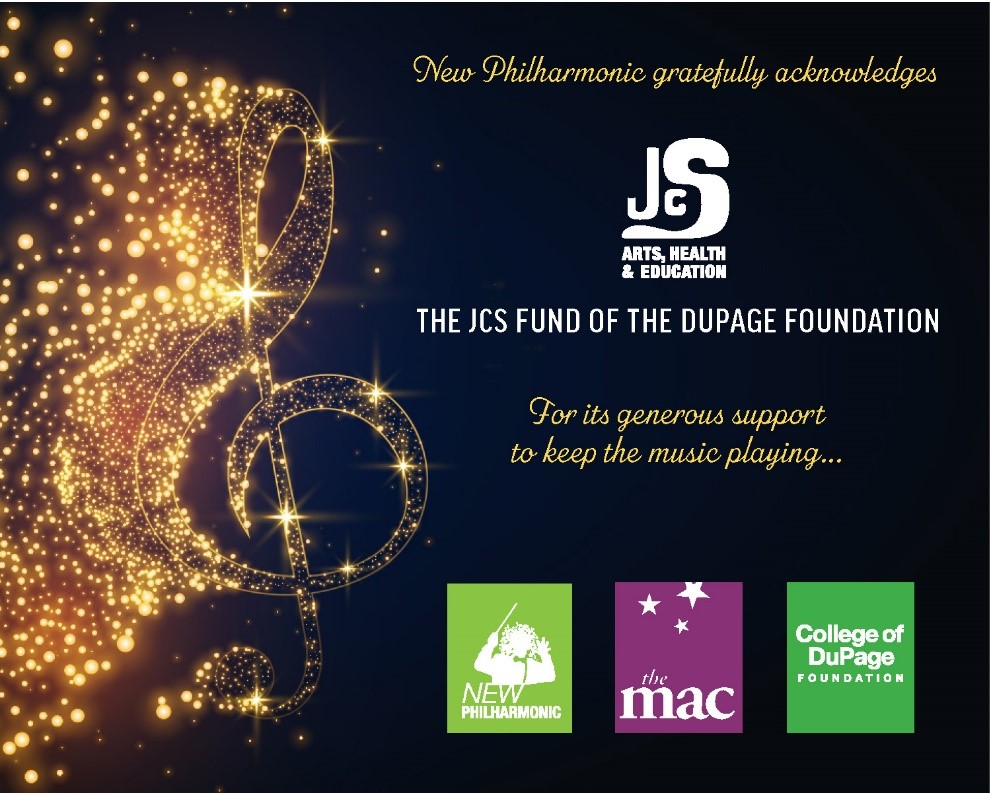 Excerpts from the Ballet Romeo and Juliet, Opus 64
Almost four and one-half years after the completion of the score, Prokofiev's ballet Romeo and Juliet enjoyed a sparkling Leningrad premiere on 11 July 1940. At a reception following the performance, the great ballerina Galina Ulanova, who danced the part of Juliet and was to become indelibly associated with the role, offered the following toast, a play on the concluding lines of the Shakespeare original:
Never was story of more woe
Thank this of Prokofiev's music for Romeo
According to Ulanova, Prokofiev enjoyed this little joke as much as anyone. Certainly the composer had to feel relieved at the triumphant conclusion of an odyssey wracked with trials and frustration at every turn.
Originally, the Kirov Theater approached Prokofiev in the latter part of 1934 with the proposal to stage a new ballet. Prokofiev decided upon an adaptation of Shakespeare's Romeo and Juliet. The Kirov ultimately negated its contract and Prokofiev then reached an agreement with the Moscow Bolshoi Theater to produce the new work. A premiere was scheduled for the end of 1935 and Prokofiev worked at a feverish pace, completing the score to Romeo and Juliet on 8 September 1935, after less than five months' time. Tragically, as Prokofiev described in his autobiography, "The Bolshoi Theater declared it impossible to dance to and the contract was broken."
Despite the fact that the ballet would not receive its first Russian performance until 1940 (the actual premiere took place on 30 December 1938 at the Brno Opera in Czechoslovakia), Prokofiev suffered immediate criticism. Russian scholars discovered that Prokofiev and his librettists had substituted a happy ending for Shakespeare's tragic conclusion. The decision to have Romeo and Juliet live happily ever after was make on entirely practical grounds, for a Prokofiev dryly observed: "Living people can dance, the dying cannot." As the composer further recalled:
Curiously enough, whereas the report that Prokofiev was writing a ballet on the theme of Romeo and Juliet with a happy ending was received quite calmly in London, our own Shakespeare scholars proved more papal than the Pope and rushed to the defense of Shakespeare. But what really caused me to change my mind about the whole thing was a remark someone made to me about the ballet: "Strictly speaking, your music does not express any real joy at the end." That was quite true. After several conferences with the choreographers, it was found that the tragic ending could be expressed in the dance and in due time the music for that ending was written.
After these initial setbacks, Prokofiev adapted music from his Romeo and Juliet for two Orchestral Suites (premiered in 1936 and 1937) as well as a collection of 10 Pieces for Solo Piano (1937). A third Orchestral Suite was completed in 1946. Prior to the 1938 Brno premiere, yet another contract to produce Prokofiev's Romeo was broken, this time by the Leningrad Ballet School. Finally, the Kirov Theater agreed to produce the Russian premiere of Prokofiev's great score.
Despite the success of the January 1940 opening, it too was preceded by a period of storm and strife worthy of the Montagues and Capulets. Prokofiev, who by this time was surely in no mood for compromise, cast an imposing figure at rehearsals. Galina Ulanova recalled, "From the day of the first read-through a rather sullen tall man sat in the hall almost every time. He looked around with hostility and anger-especially at our dancers." Prokofiev and choreographer Leonid Lavrosky quarreled repeatedly over possible modifications to the score. The dancers complained that the delicate scoring was difficult to hear and the unorthodox rhythms impossible to dance.
Prokofiev responded angrily, I know what you want! You want drums, not music!" Finally, the composer's anger abated and he announced, "Very Well, I shall rewrite music here and add something."
Still, Prokofiev's music so intimidated the ballet company that its members, fearing disaster, threatened just a few weeks before the premiere to boycott the production. Finally, the genius of Prokofiev's score gained the troupe's confidence. Ulanova reminisced that:
The more we listened to it, the more we worked, experimented and searched, the more clearly emerged the images that the music created. And gradually as we came to understand the music, we no longer found it difficult to dance to; it became clear both choreographically and psychologically. And now if I were to be asked what the music of Romeo and Juliet should be like. I would say without hesitation: like Prokofiev's, for I cannot now conceive of any other music.
After the sterling Kirov premiere, the Bolshoi Theater mounted a stunning production in 1946, again with Ulanova as Juliet. Since that time, Prokofiev's Romeo and Juliet has enjoyed a justified reputation as one of the greatest ballet scores.
Note courtesy of the Pittsburgh Symphony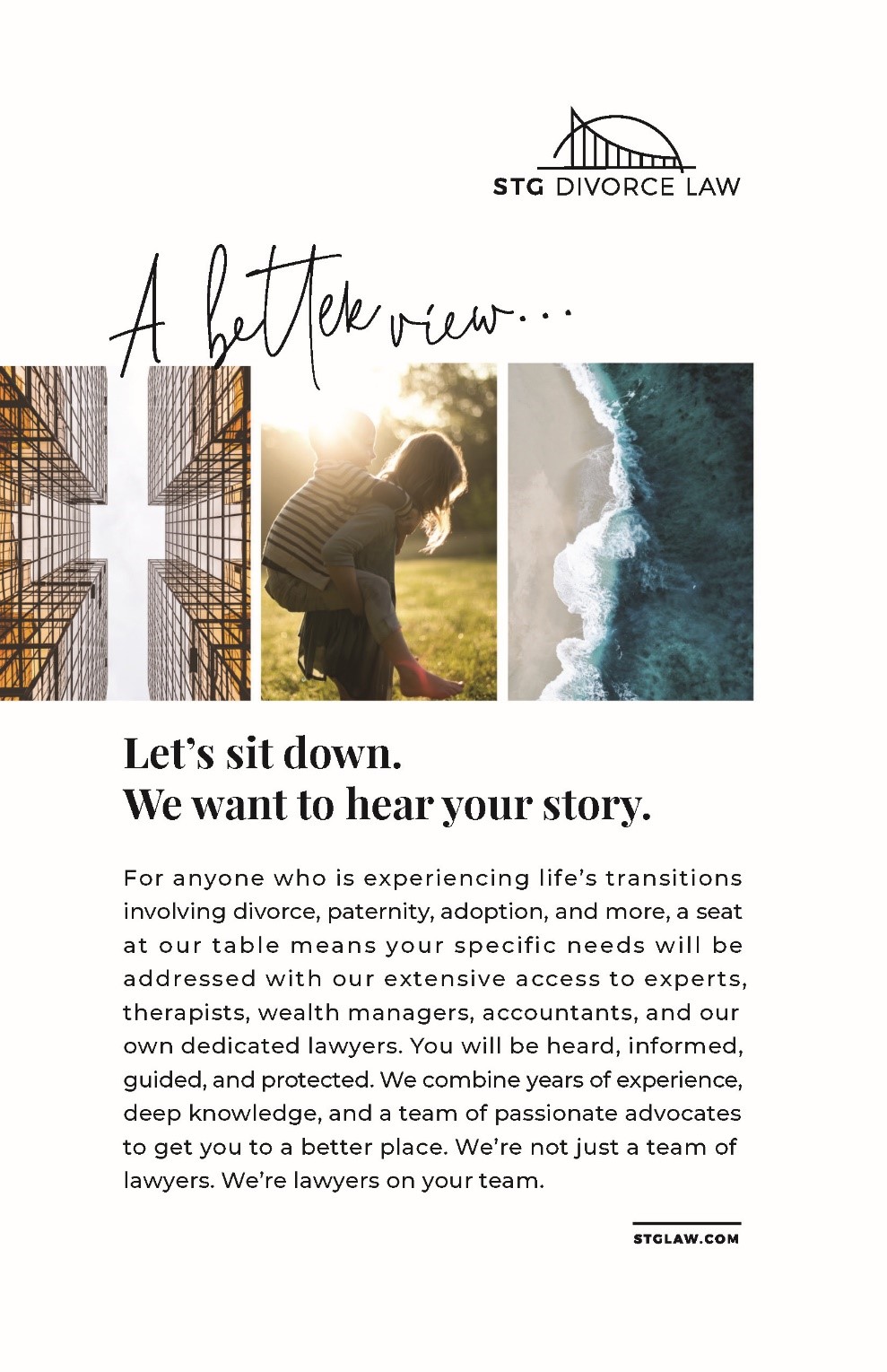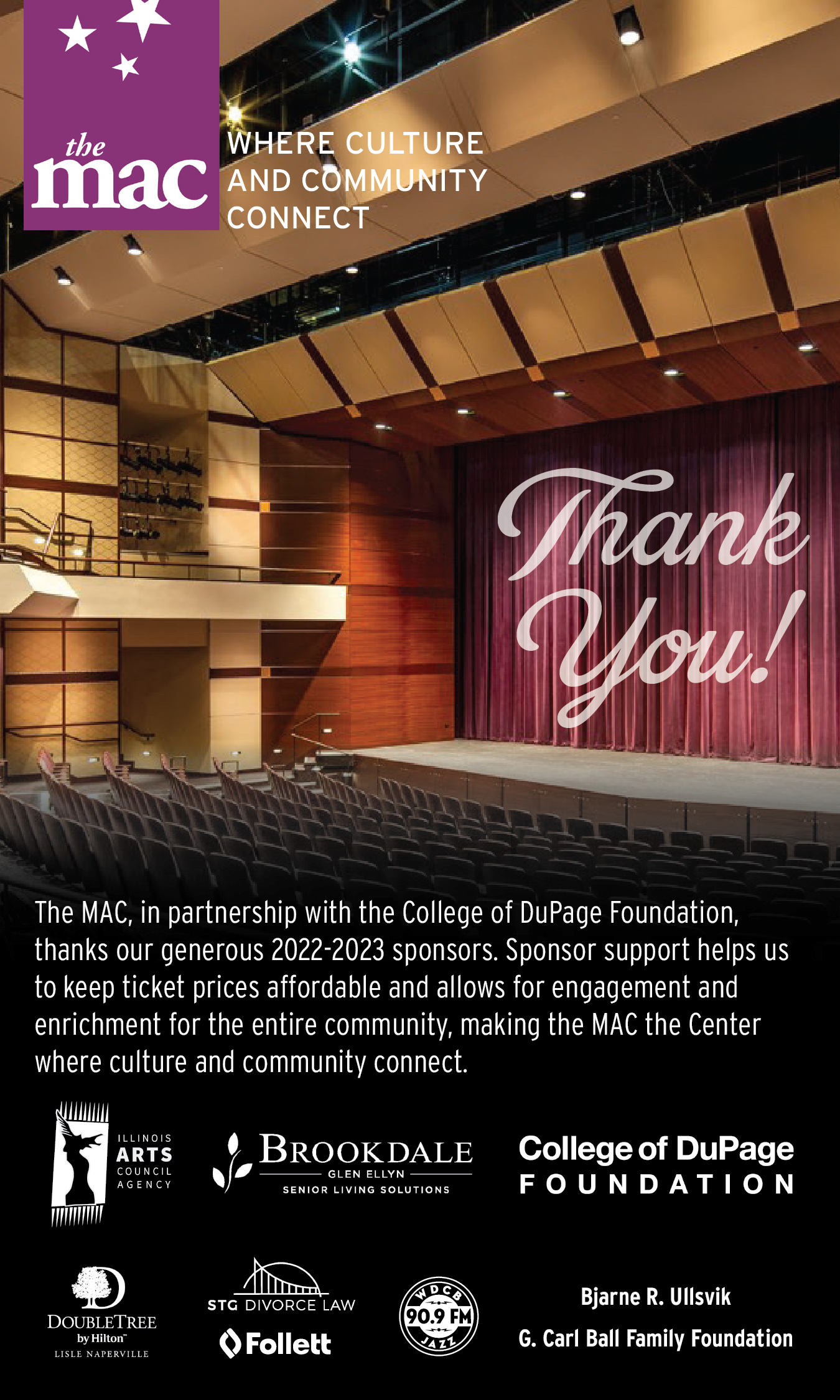 Victor Santiago Asuncion
Pianist
Hailed by The Washington Post for his "poised and imaginative playing," Filipino-American pianist Victor Santiago Asuncion has appeared in concert halls in Brazil, Canada, Ecuador, France, Italy, Germany, Japan, Mexico, the Philippines, Spain, Turkey and the USA, as a recitalist and concerto soloist. He played his orchestral debut at the age of 18 with the Manila Chamber Orchestra, and his New York recital debut in Carnegie's Weill Recital Hall in 1999. In addition, he has worked with conductors including Sergio Esmilla, Enrique Batiz, Mei Ann Chen, Zeev Dorman, Arthur Weisberg, Corrick Brown, David Loebel, Leon Fleisher, Michael Stern, Jordan Tang, and Bobby McFerrin.
A chamber music enthusiast, he has performed with artists such as Lynn Harrell, Zuill Bailey, Andres Diaz, James Dunham, Antonio Meneses, Joshua Roman, Cho-Liang Lin, Giora Schmidt, the Dover, Emerson, Serafin, Sao Paulo, and Vega String Quartets. He was on the chamber music faculty of the Aspen Music Festival, and the Garth Newel Summer Music Festival. He was also the pianist for the Garth Newel Piano Quartet for three seasons. Festival appearances include the Amelia Island, Highland-Cashiers, Music in the Vineyards, and Santa Fe.
His recordings include the complete Sonatas of L. van Beethoven with cellist Tobias Werner, Sonatas by Shostakovich and Rachmaninoff with cellist Joseph Johnson, the Rachmaninoff Sonata with the cellist Evan Drachman, and the Chopin and Grieg Sonatas, also with cellist Evan Drachman. He is featured in the award winning recording Songs My Father Taught Me with Lynn Harrell, produced by Louise Frank and WFMT-Chicago. Mr. Asuncion is the Founder, and Artistic and Board Director of FilAm Music Foundation, a non-profit foundation that is dedicated to promoting Filipino classical musicians through scholarship, and performance.
He received his Doctor of Musical Arts Degree in 2007 from the University of Maryland at College Park under the tutelage of Rita Sloan. Victor Santiago Asuncion is a Steinway artist.
Kirk Muspratt
Music Director and Conductor
Kirk Muspratt recently received the 2018 Conductor of the Year award from the Illinois Council of Orchestras. He was also named "Chicagoan of the Year" in classical music by John von Rhein and the staff of the Chicago Tribune. In honoring Muspratt, von Rhein said, "Ask the delighted adults and kids who this year flocked to his concerts in west suburban Glen Ellyn with the New Philharmonic Orchestra … They will tell you he made concert going an interactive experience that was both enlightening and— are you ready?—fun."
Recognized as one of the outstanding figures in the new generation of conductors, Muspratt has garnered international critical acclaim as a "born opera conductor" (Rheinische Post), "a knowledgeable musician who delivers superbly controlled, gorgeously shaped readings" (St. Louis Post-Dispatch), and "friend to local music" (Midwest Beat Magazine). The Los Angeles Times declared, "Watch him!"
In July 2004, Muspratt was named both music director of New Philharmonic and artistic director/music director of DuPage Opera Theatre (now New Philharmonic Opera). In his last 15 years, productions featured Otello, Madama Butterfly, Le Nozze di Figaro, Il Barbiere di Seviglia, Hansel and Gretel, La Boheme, Faust, Tosca, The Beggars Opera, Elixir of Love, Turandot, Gianni Schicchi, Cosi fan Tutte, The Mikado, La Traviata and Die Fledermaus.
In 2017 and 2009, New Philharmonic was awarded Professional Orchestra of the Year by the Illinois Council of Orchestras.
In his first months at New Philharmonic, Muspratt instituted a Side-by-Side program for local high school students. Six years ago, Muspratt initiated a popular Solo Competition for Children that results in a child performing at every New Philharmonic concert. In order to involve the community to the maximum, Muspratt has created "Just Ask Kirk™" cards for audience members' questions and a "Kirkature™" cartoon to help advocate the credo: "Classical music is for everyone."
Muspratt begins his 20th acclaimed season as music director of the Northwest Indiana Symphony Orchestra (NISO). In 2006, with NISO, he initiated the South Shore Summer Music Festival.
From 1991 through 1996, Muspratt served as resident conductor to Lorin Maazel at the Pittsburgh Symphony Orchestra. Prior to that, he was appointed as associate conductor to Joseph Silverstein at the Utah Symphony Orchestra (1990-1992). From 1987 through 1990, Muspratt served as assistant conductor to Leonard Slatkin at the St. Louis Symphony Orchestra as well as music director of the St. Louis Symphony Youth Orchestra. He was music director of the Alberta Ballet from 1997 through 1999. At the New York Philharmonic, Muspratt has served as a cover conductor. During the 2018 and 2019 season Muspratt served as a guest conductor at the Joffrey Ballet.
In addition to his work in Pittsburgh, Utah and St. Louis, Muspratt has guest conducted the orchestras of Los Angeles, Montreal, London, Korean Broadcast
Symphony, Detroit, Rochester, National Arts Center, Vancouver, Knoxville, Puerto Rico, Rhode Island, Winnipeg, Calgary, Edmonton, Hamilton, Victoria, Thunder Bay, New Orleans, Stamford, Binghamton, Lafayette, South Bend, Puchon, Annapolis, Wisconsin Chamber Orchestra and Baltimore Chamber Symphony. Summer debuts have included the Tanglewood, Chautauqua and Sewanee Music Festivals and the Banff Center for Performing Arts.
In Europe, Muspratt was assistant conductor in the opera houses of Monchengladbach/ Krefeld, Germany, from 1985 to 1987. His American opera-conducting debut came with the Utah Opera in 1991. He returned there to premiere Mascagni's L'Amico Fritz. Maestro Muspratt has conducted Die Fledermaus for the Calgary Opera, Faust and Merry Widow for the Utah Opera, Of Mice and Men and Il Barbiere di Siviglia for the Arizona Opera, all to stunning critical acclaim. In addition, he debuted at the Ash Lawn-Highland Summer Opera Festival in Virginia. He returned to Arizona Opera to conduct their production of Dialogues of the Carmelites, to the Utah Opera for their new production of Faust and Amahl and the Night Visitors at Opera Illinois.
In 1983 and 1984, Muspratt was invited to be a scholarship student at the Chautauqua Institute and in 1986 was selected as a conducting fellow at the Aspen Music Festival. A year later, he was invited into the Conducting Program at the Tanglewood Festival. In 1988, he was chosen to be one of three conducting fellows for the Los Angeles Philharmonic Institute at the Hollywood Bowl.
As a teacher, Muspratt has taught at the Conductors' Institute of the University of South Carolina, the Conductors' Guild National Workshops, Association of Canadian Orchestras National Conference in Toronto, the Conductors' Studio at Illinois State University and at Westminster Choir College in Princeton. During the summer, he has often taught a graduate conducting class at VanderCook College of Music and for the last three summers has been teaching at the
Northwestern University Summer Opera Seminar. In 2019, he taught graduate conducting master classes at Illinois State University and judged the concerto competition at Northwestern University.
Having always enjoyed working with young people, he has conducted the Pennsylvania Regional Orchestra and the Pennsylvania All-State Orchestra and most recently the IMEA District 9 orchestra. Muspratt has conducted the Boston University Tanglewood Orchestra at the Tanglewood Festival. Muspratt has been the recipient of numerous awards, among them grants from the Canada Council and the Presser Foundation. In 1983 and again in 1984, he was winner of the Strauss Conducting Prize while a conducting student at the Vienna Conservatory. During his tenure in Utah, he received the first Utah Up 'n Comers Award ever given to a classical musician. This honor was awarded to Muspratt for his work and involvement in the Utah Arts Community. In 1987, he was named winner of the prestigious Exxon/Affiliate Artists Award.
He began his studies as a pianist in New York with Harold Zabrack and continued his studies at Temple University with Adele Marcus and Alexander Fiorillo. After completing graduate studies, Muspratt was accepted into the conducting program at the Konservatorium in Vienna, Austria.
Muspratt is a native of Crows Nest Pass, Alberta, Canada. He became an American citizen in the summer of 2010.
In 2016, he was honored to become a Paul Harris Fellow, an award named for the Rotary International Founder, Paul Harris.
Benjamin Nadel
Associate Conductor and Principal Librarian
Benjamin Nadel (Associate Conductor and Principal Librarian) is a classically trained conductor, pianist, and violinist. Based in Chicago, he is the Associate Conductor and Orchestra Librarian for the New Philharmonic and Northwest Indiana Symphony Orchestra. Nadel is also the Orchestra Director at North Central College, and beginning this Fall he is the new conductor for the Northwest Indiana Symphony Youth Orchestra. Since he began these positions, Nadel has conducted on a wide variety of programs and has prepared hundreds of pieces across both the classical and pops repertoires.
Nadel began his conducting studies with Dr. Glenn Block at Illinois State University while completing his undergraduate degree in Music Education. He then went on to receive his MA in Orchestral Conducting at the University of Iowa with Dr. William LaRue Jones. While pursuing his degrees, he had the opportunity both assist and conduct several operatic productions, including Candide, La bohéme, La clemenza di Tito, and Iolanthe. He has participated in several summer music festivals, one of which was Cincinnati Conservatory's program as a part of the summer music festival in Spoleto, Italy.
From 2011 – 2015, Nadel spent his summers with the Midwest Institute of Opera, as the assistant conductor to Maestro Joshua Greene of the Metropolitan Opera. While there, he conducted both full concert and stage productions of Don Giovanni, Così fan tutte, and Carmen in addition to assisting and coaching productions of Die Zauberflöte and La Cenerentola.

Aside from his work as a professional conductor, Nadel has a strong connection and personal interest to music education. He believes that one of the most important aspects of being an artist is to pass along that experience and knowledge to the next generation of musicians. To that end, Nadel has worked with several high school ensembles in the Chicago area, including New Trier, Metea Valley, Glenbard West, and Stevenson High School. His work has included side by side concerts with New Philharmonic as well as the coordinator of conducting workshops for Opus Chamber Music camp, as well as Illinois State University.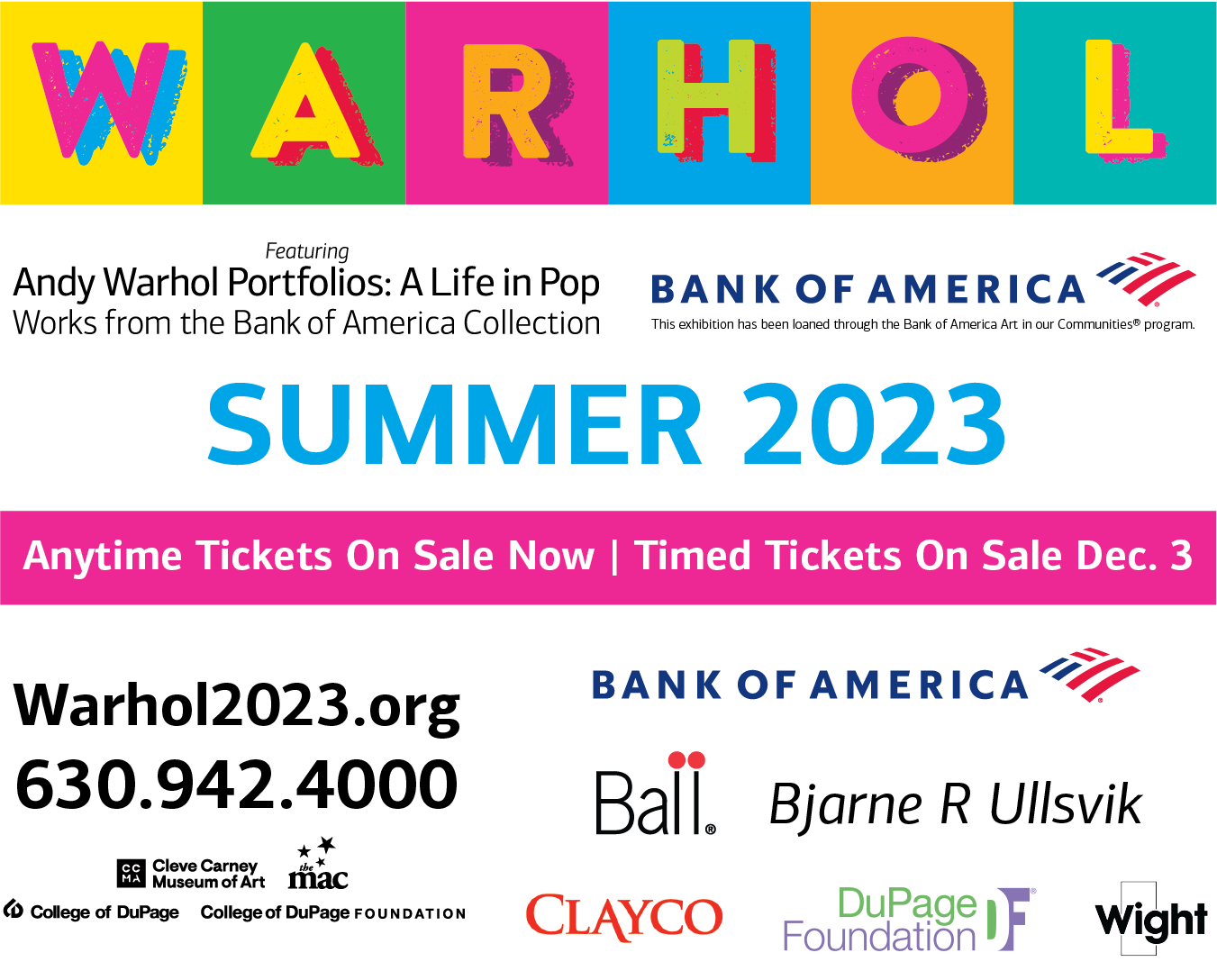 Ryan Morrison is an active performer in the Chicago area and is excited to rejoin New Philharmonic in the September production of Romeo and Juliet. He was also seen recently in New Philharmonic's productions of West Side Story, Die Fledermaus and Mikado. Mr. Morrison has an extensive and passionate vocal background ranging from Gregorian chant and Renaissance pieces to contemporary operatic, oratorio, and choral works.
On stage, he's performed a wide range of characters, including: a king, thieving scoundrel, buffoon, soldier, night watchman, shepherd, and even a drunken uncle! Past solo roles include: The Bonze in Madama Butterfly, Ben Budge in Britten's The Beggar's Opera, The Herald in Verdi's Otello, and The Custom's Official in Puccini's La boheme. He has also performed in numerous local productions in the Christmas classic Amahl and the Night Visitors, as both Melchior and Balthazar – two of the three Kings.
Morrison is married to his lovely wife, Erika (also a New Philharmonic alum), has two children, Charlotte and Leo, a dog (Major Tom) and a cat (Mr. Mustard). When not singing in musicals or operas, he can also be found locally playing bass guitar and singing in local rock cover bands.
Erika Lawson Morrison
Narrator
Erika Lawson Morrison has been praised for her powerful instrument and her ability to create an intimate connection with her audience (Beaver Island Performing Arts Alliance). Ms. Morrison is an active soloist and chamber musician throughout the regional state area.
Recent solo appearances include Antonio Vivaldi's Gloria, with the Baroque on Beaver Island Music Festival (Beaver Island, MI) orchestra and choral ensemble and as a featured soloist, performing selections from Henry Purcell's Dido and Aeneas. Other solo performances include W.A Mozart Requiem (Baroque on Beaver/Interlochen Radio) , G.F. Handel Messiah, Gustav Mahler Lieder eines farenden Gesellen, Vaughn Williams Symphony No. 3 (Lake Forest Civic Orchestra, Lake Forest,IL) and Richard Wagner Wesendonck Lieder. (Virtual Performance, Baroque on Beaver, YouTube)
Ms. Morrison has had the pleasure to be a part of New Philharmonic and DuPage Opera's varied endeavors for many years, most recently as Praskovia in New Philharmonic's production of Lehar's Merry Widow and is thrilled to be returning.
Kirk Muspratt, Music Director and Conductor
Chair sponsored by Renee Giragos, in memory of Dr. Henry G. and Jeanette N. Giragos, and by Bob and Joan Olach
1st Violin
Mark Agnor, Concertmaster
Chair sponsored by Sue and Dick Lamb
Debra Ponko
Stephane Collopy
Eloise Meloni
Gina Young
James Sanders
Yuri Grankin
Grace Yang
Tamara Glassburg
Michelle Wynton
2nd Violin
Kristen LeJeune, Principal
Chair sponsored by Dr. Donald E. Newsom, in memory of Dr. Mary Ellen Newsom
Chikako Miyata
Miki Santibanez
Bill Kronenberg
Melissa Streidl
Jennifer Stedman
Rebecca Cambio
Viola
Ryan Rump, Principal
Chair sponsored by Karen Dickelman
Sarah Tompkins
Emma Strobusch
Dorthy Okpebholo
Nora Williams
Aleksa Masyuk
Karen Dickelman
Cello
Melissa Bach, Principal
Chair sponsored by John Rutledge and Betty Joseph
Wei Lu Denton
Chair sponsored by John Rutledge and Betty Joseph
Anne Monson
Chair sponsored by John Rutledge and Betty Joseph
Nancy Moore
Kelly Quesada
Elizabeth Anderson
Alan Rostoker
Patti Garvey
Bass
Michael Meehan, Principal
Chair sponsored by Margaret and Michael McCoy
Julian Romane
John Rosenkrans
Alan Steiner
Flute
Carolyn May, Principal
Chair sponsored by Kathleen Yosko
Leslie Short
Ellen Huntington
Oboe
Andrew Lietza, Principal
Chair sponsored by Sue and Dick Lamb
Melinda Getz
Nancy Hagen
Clarinet
Barbara Drapcho, Principal
Chair sponsored by Lowell and Barbra Anderson
Mary Payne
Lacy Garbar
Tenor Saxophone
Nick Zoulek
Bassoon
Dan D'Andrea, Principal
Chair sponsored by Barbra Murphy
Lynette Pralle
Susan Nigro
Horn
Phil Stanley, Principal
Chair sponsored by Dr. Donald G. Westlake
Elizabeth Deitemyer
Mary Jo Neher
Joanna Schulz
Trumpet
David Gauger, Principal
Chair sponsored by Margaret and Michael McCoy
James Hahn
Ryan Hobbs
Amy Nelson
Trombone
Adam Moen, Principal
Sean Keenan
Darren Castellanos
Tuba
Doug Zelinka
Timpani
Brandon Podjasek
Percussion
Andrew Cierny
Chair sponsored by Jim and Tally Knippen
Jeff Handley
Jaime Cardenas
Harp
Nichole Young
Keyboard
Patricia Lee
Orchestra Manager
Paula Cebula
Associate Conductor, Librarian
Benjamin Nadel
Chair sponsored by Richard and Sheila Komarek
Personnel Manager
Karen Dickelman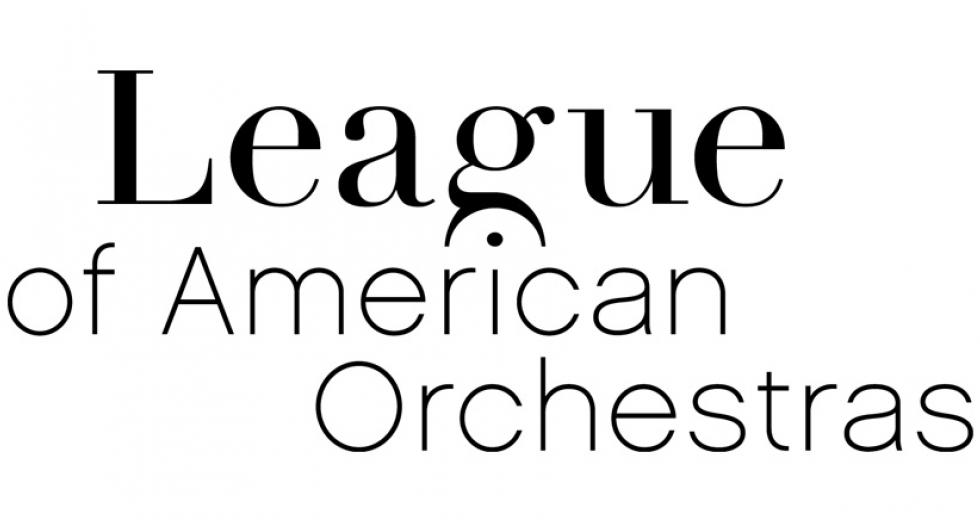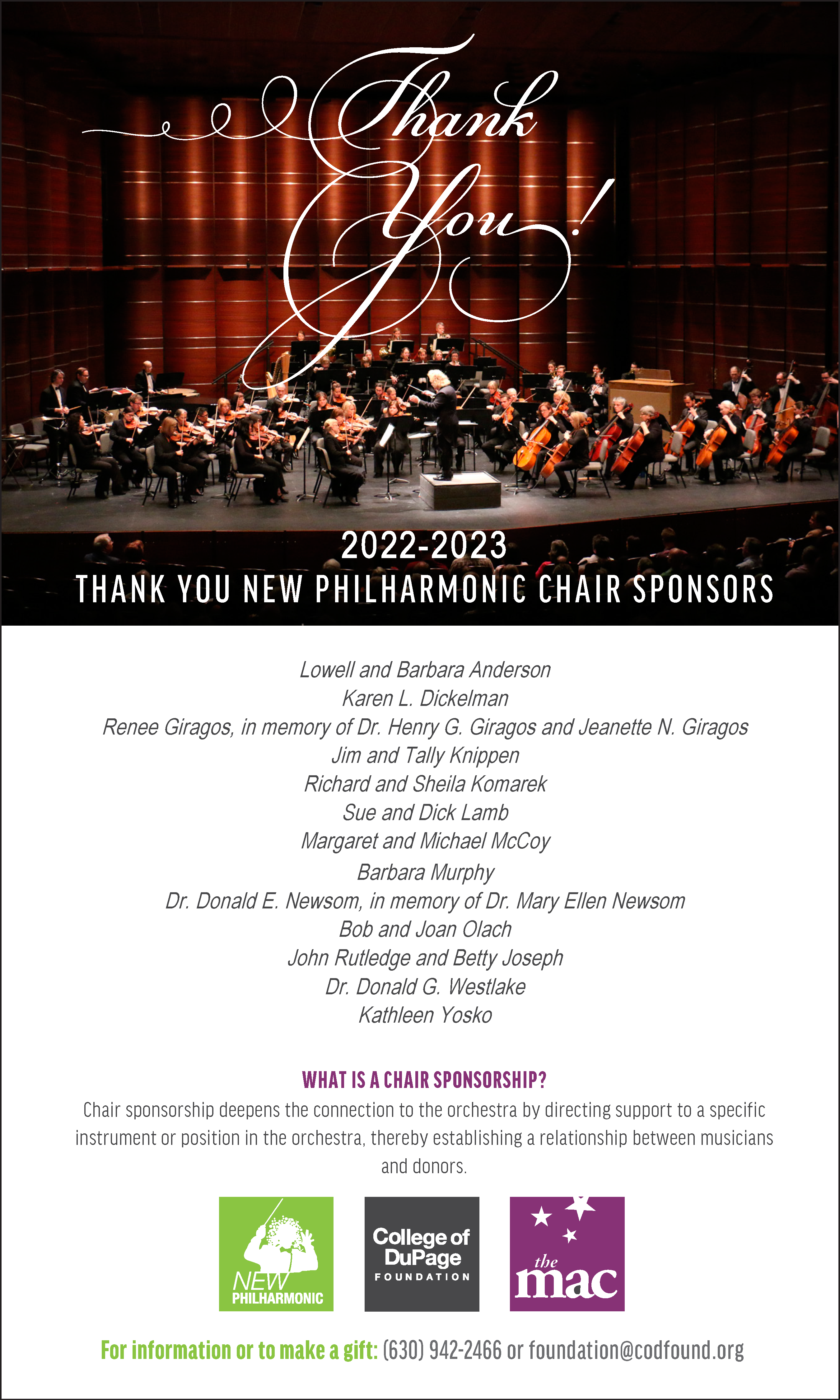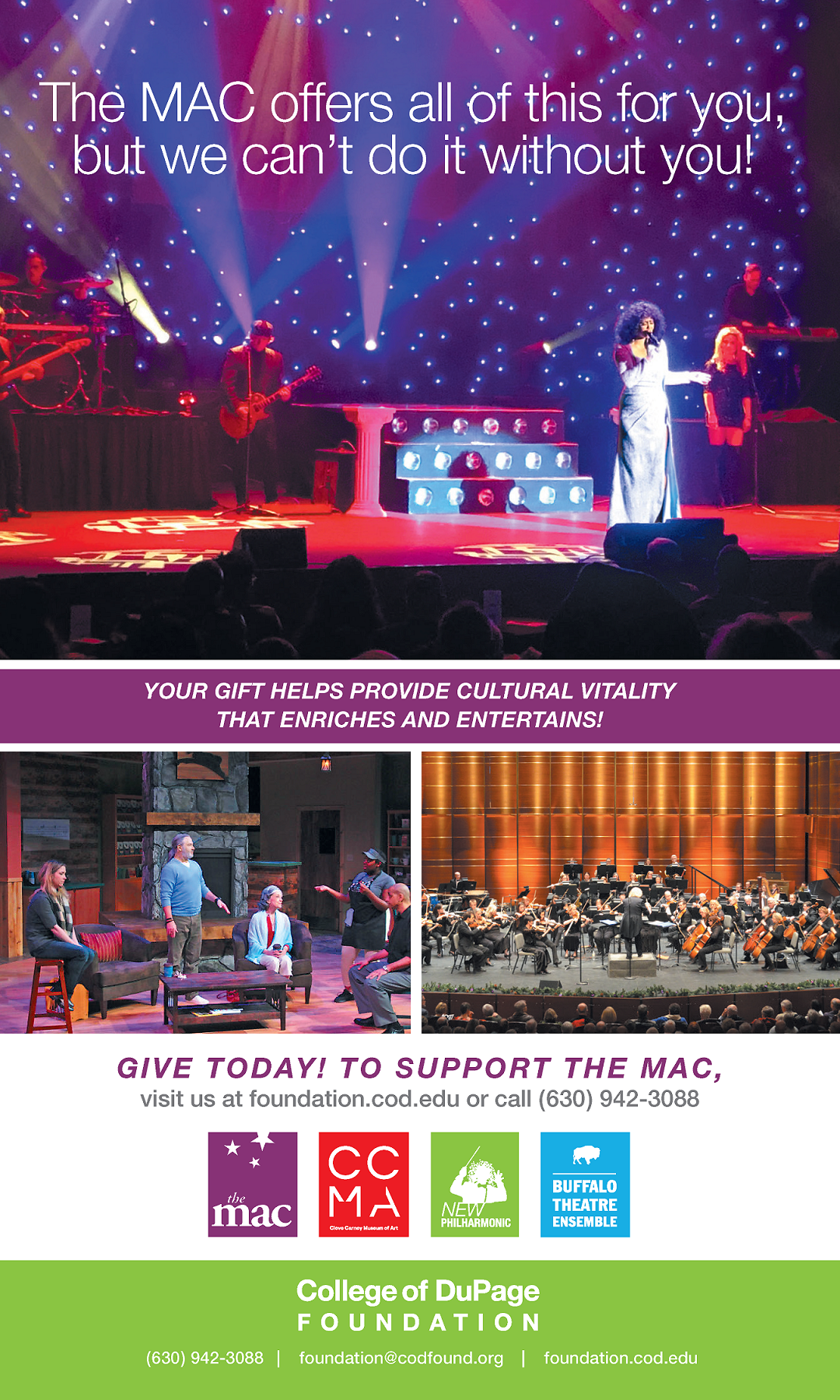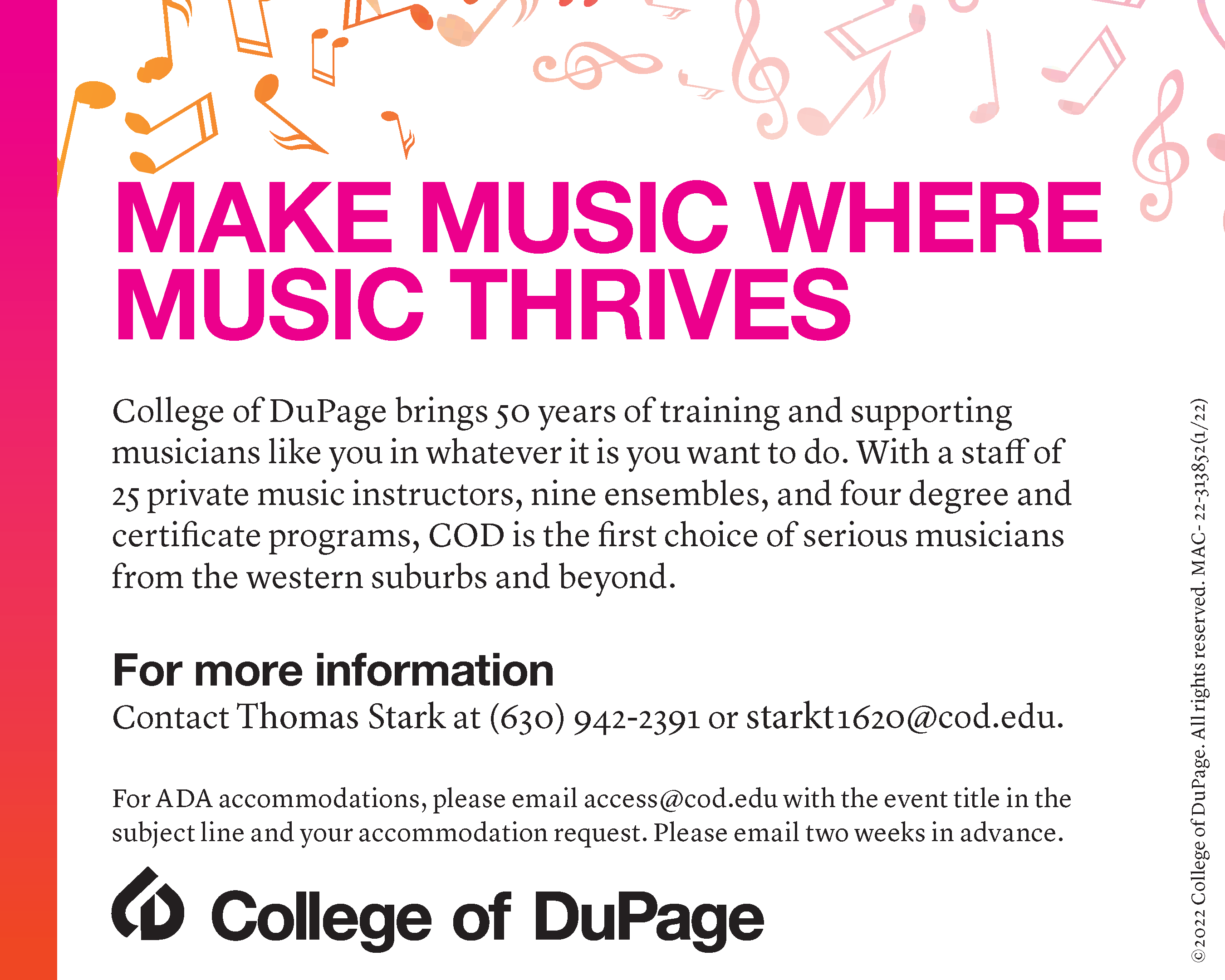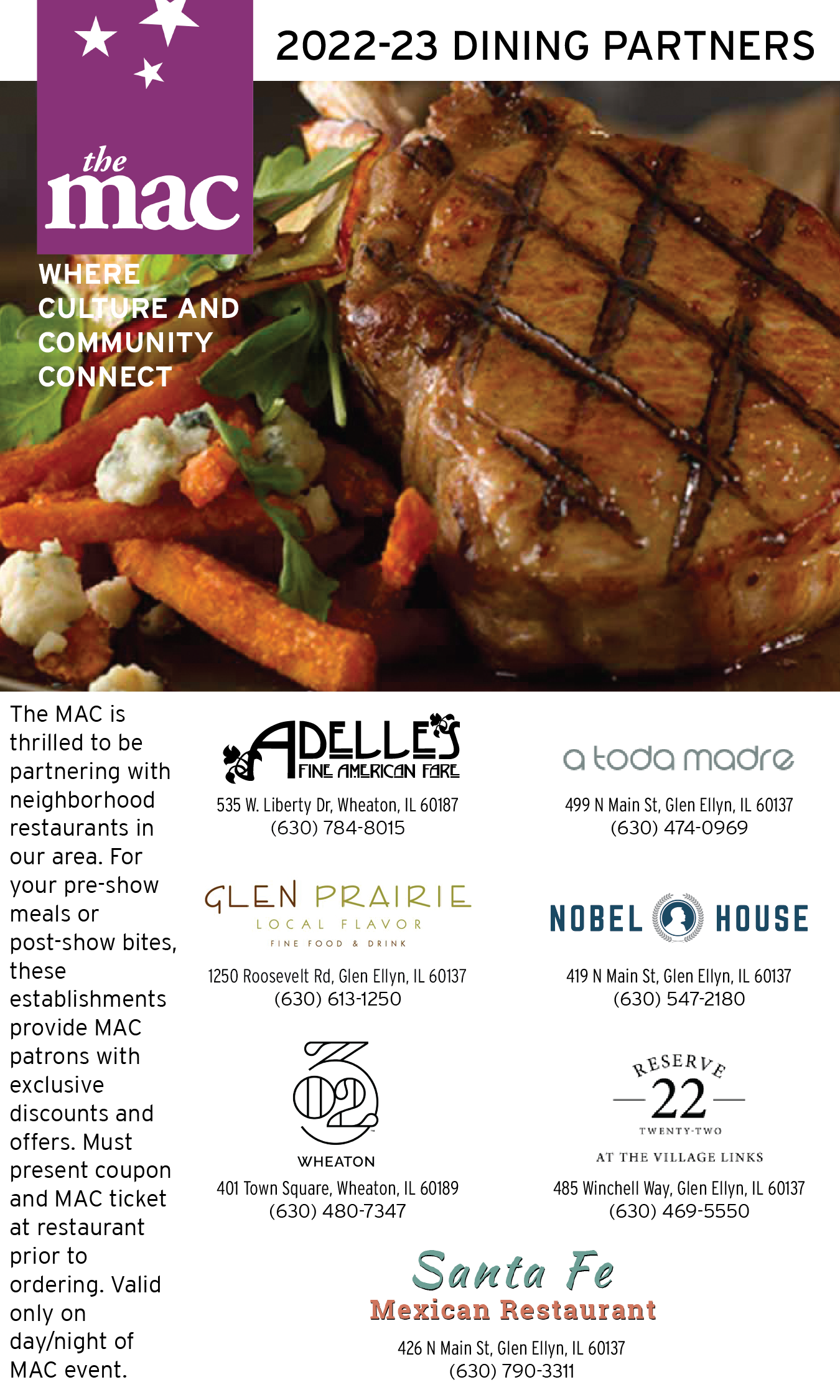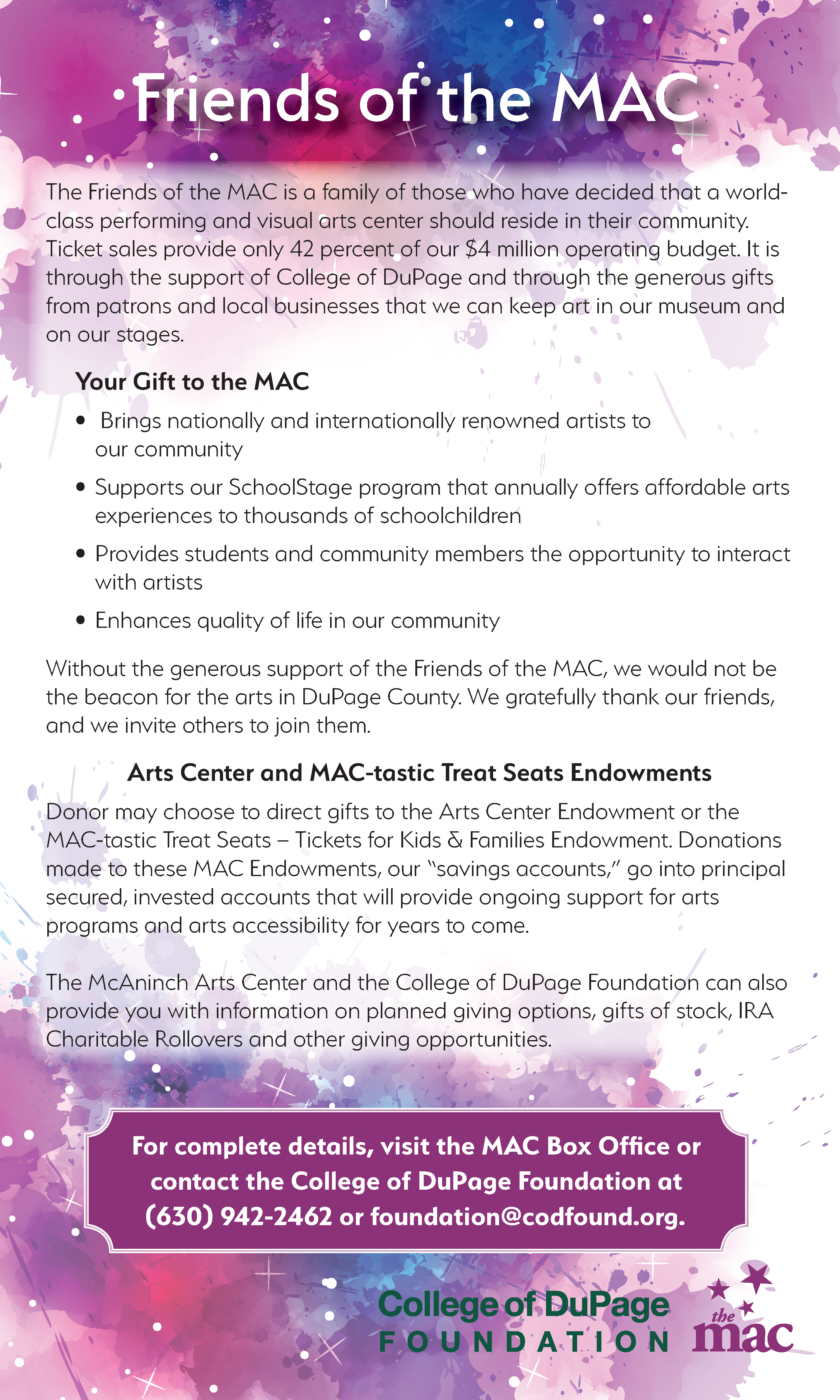 McAninch Arts Center acknowledges and gives grateful thanks to those donors who have contributed in support of the MAC mission and vision. This list of donors reflects contributions made from Dec.1, 2020 – Aug. 31 2022. While we carefully prepared this list, we recognize that errors may have occurred. Please accept our apology if you are not properly represented on this list and contact the College of DuPage Foundation at (630) 942-2462 so we may correct our records.
Leadership Circle ($5,000+)
Anonymous (4)
American International Group
Lowell and Barbara Anderson
The John A. Attard Family Foundation
Anna Ball
Bank of America
Dr. and Mrs. Brian W. Caputo
Mrs. Clark G. Carpenter
Dr. and Ms. Mark A. Curtis-Chavez
Anita Dickson
DuPage Foundation
Follett Higher Education Group
Mr. David J. Frank
Debbie Fulks
G. Carl Ball Family Foundation
Goya Foods, Inc
JCS Fund of DuPage Foundation
Karen and Gene Kuhn
La Tequileria, Inc.
Mr. and Mrs. Richard Lamb and Susan and Richard Lamb Charitable Fund of The DuPage Foundation
Mr. Larry C. Larson*
Legat Architects, Inc.
Marilyn H. Wolff Foundation
David and Carolyn May
Dr. and Mrs. Harold D. McAninch
Margaret and Michael McCoy
Jane E. Moore
Ms. Kimberly G. Morris
Joan Morrissey
Drs. Donald E. and Mary Ellen Newsom
Joan and Bob Olach
Mr. Doug Peterson
Mr. and Mrs. Mark A. Peterson
Meri Phillips
Gary and Mary Rash
John Rutledge and Betty Joseph
Charles Schlau
Mr. and Mrs. Steven E. Shebik
STG Divorce Law
Terrence J. Taylor and Maureen Sullivan Taylor
Bjarne R. Ullsvik
VALIC
James and Patricia Vary
Dr. Donald G. Westlake
Wight & Company
Mark Wight and Eszter Borvendeg
Ms. Kathleen C. Yosko
Encore Circle $2,500-$4,999
Anonymous (2)
Mr. and Mrs. Mark F. Baggio
Joseph and Betsy Ballek
Brookdale Glen Ellyn Senior Living Community
Dr. and Mrs. Christopher B. Burke
John and Pamela Dalby
Enertherm Corporation/Russ and Judy Flores
Representative Terra Costa Howard and Nick Howard
Mr. and Mrs. James H. Knippen, II
Mr. and Mrs. Gary Lietz
Ms. Diana L. Martinez
Representative Deanne M. Mazzochi
Judith May O'Dell
Dorothy I. O'Reilly
Dr. and Mrs. Craig Pieters
Mr. and Mrs. William E. Podgorski
Kelly and Roland Raffel, in memory of Herbert K. Raffel
Mr. Paul Rom
Judy Ronaldson
Rotary Club of Glen Ellyn
Mr. and Mrs. Frank Shoemaker
Geraldine Smrcina
Marilyn Smrcina
Angel and Troy Traub
Mr. and Mrs. Michael R. Webb
Wheaton Noon Rotary
Bonnie M. Wheaton
Director's Circle $1,000-$2,499
Anonymous (4)
Robert and Lynne Anderson and Robert and Lynne Anderson Charitable Fund of US Charitable Gift Trust
Ms. Charlotte Babitzke
Katherine Balek
Milt and Heide Bentley
Mr. and Mrs. James Blaha
Prof. and Mrs. Charles E. Boone
Ronald and Hope Bucher
Connie Canaday Howard and Rex Howard
Capt. Bernardo lorgulescu USMC Memorial Fund DuPage Fdn
Chicago Westmont Tesla
Community Foundation of Will County
Janet Derber
James and Marie Drasal and Drasal Family Fund of Fidelity Charitable Gift Fund
Mr. Ryan M. Ellison
Anonymous Design, Inc.
Marcela Fanning
John and Joann Faulhaber
Ms. Renee J. Giragos
Mr. and Mrs. Robert G. Hartman
Mr. and Mrs. John A. Herndon
Lance Herning
Mr. Mark J. Hill
Mr. Glenn Hopkins
Humernansky Family Foundation
Jorge and Beatriz Iorgulescu
Mr. and Mrs. James E. Jenkins
Jeffrey Jens and Ann Boisclair
Mr. and Mrs. Walter J. Johnson
Mr. and Mrs. James Klang
Richard and Sheila Komarek
Charlene Kornoski-Du Vall
Mr. William Kronenberg
Linda Lauterbach
Ida Lee
Ms. Mary Locher
Ms. Jennifer Mackey
Marilyn and Tipton McCawley, Jr.
John and Lynette McCortney
Mr. and Mrs. Todd Menenberg and Todd and Mimi Menenberg Charitable Fund
LTC and Mrs. James Milobowski
Bill and Nancy Moore
Mr. and Mrs. Ray Mulacek
John Mulherin
Ms. Emi Murata
Mr. and Mrs. Larry G. Murdock
Ms. Barbara Murphy
Kirk Muspratt, in memory of Henry and Jeanette Giragos
Nicor Gas
Jane Oldfield
Mr. and Mrs. Robert D. Owen
Helen Pachay
Madeleine Pachay
Mr. and Mrs. Anthony G. Padgett
Jim and Lorraine Paulissen
Ms. Linda A. Picchiottino
Jeffrey and Debora Ponko
Mr. and Mrs. Paul P. Pyrcik, Jr.
Richard and Elizabeth Quaintance
Ginny and Don Raths
Al and Cecile Robinson
The Rev. Dr. Curtis and Leanne Rolfe
Jordan Ross
Rotary International District 6440
Rotary International District 6450, Inc
Ms. Theresa M. Sak
Ms. Lisa Savegnago and Mr. Ronald A. Johnson
Mr. John Schofield
Mr. and Mrs. Kenneth Serwinski and the Kenneth and Nancy Serwinski Charitable Fund - Schwab Charitable
Kristin and Peter Shulman
Skeet and Laura Skeet
Mr. and Mrs. D. G. Stephenson, Jr.
Anthony and Mona Taylor
Judith S. Thuer
Mr. and Mrs. Avram Tucker
USG Foundation
Theodore M. Utchen
Dr. and Mrs. E. Jay Van Cura and The E Jay Van Cura MD Charitable Fund of the Vanguard Charitable Endowment Program
Vistex, Inc
Scott and Kristen Wiersum
Rich and Kathy Wilders
Jo Anne Zipperer
Ambassador Circle $500-$999
Anonymous (2)
Tony Achilles
Ms. Bonniejean Alford
Col. and Mrs. Renato P. Bacci, Jr.
Ms. Susannah Ball
Jack and Mary Ellen Barry
Gayle and Don Bartell
Ms. Eunice Becker
Mr. Geoffrey Bevington
Mr. and Mrs. Collin M. Biggs
William Bulger
Ed and Kay Burton
Peach and Wayne Carr
Mr. Robert B. Chasteen
Greg and Janet Chejfec
Chocolaterie Stam of Glen Ellyn
Megan and Peter Clifford
Delta Airlines
Dempsey-Musker
Barbara DiGuido
Robert and Carol Drake, Jr.
William and Kathleen Drennan
William and Sally Newton Fairbank
Ms. Marla Felsten
Mr. Anthony Fitzpatrick
Mr. and Mrs. Jose G. Flores
Ms. Karen Gustafson
Ginni and Chris
Gwen and Chet Henry
Ms. Judith Hunnicutt
Dr. Beth Johnson
Christine Kickels
Ms. Julie Knudson and Mr. Paul Nielson
Ms. Kathy Leimbach
Mr. and Mrs. Edward Makauskas
Barb and Scott Marquardt
Mr. Henry A. Matthews
Mr. Donald E. McGowan and Ms. Mary L. Prazak
Mr. Glenn McMurray
Mr. and Mrs. John Meier
Mr. and Mrs. Philip Norton
Karen Webb Owen
Parkers' Restaurant and Bar
Mr. and Mrs. Mark Pfefferman
PGA Tour Superstore
Pica-do-yo, LLC
Ms. Diane G. Rath
Ms. Amy Ripepi
Ms. Celia E. Rodee
Sylvia Rodee
Rotary Club of Carol Stream (Club 3112)
Ms. Lisa Sallwasser
The Shimp Family
Ms. Donna Jean Simon
Mrs. Marilyn A. Steenwyk
Mr. and Mrs. Anthony J. Wdowiarz
Ms. Kathy A. Wessel
Wheaton Rotary A.M. Club
Mr. and Mrs. Robert E. Wulffen
Performer ($250-$499)
Anonymous (13)
Young Ahn
Terri Allen
Mr. and Mrs. Brandon Anderson
Mr. and Mrs. Tom Anderson
Mrs. Lynnette Arendt
Barbara and Paul Aronson
Vickie Austin
Harold and Karen Bauer
Mr. and Mrs. Ronald N. Ben
Mrs. Deborah F. Borge
Jim and Sandy Boves
Mr. Franklin E. Bowes
Lesley Brown
Cabernet & Company
Gayatri Choudhary
Ms. Linda Clark
College of DuPage Foundation
Ms. Jenny Croitoru
Mr. James M. Cronin
Sharon D'Alessandro
Ms. Sara De Zara
George W. and Ann Dervis
Joy and Ron Detmer
Senator and Mrs. Kirk Dillard
Ms. Mary A. Donlon
Evalee Dumas
Joanne East
Carol and David Eisinger
Joseph and Frances Eraci
Ms. Brenda Eriksen
Christine and Craig Fenne
David and Janet Fox
Kenneth D. Frank
Marcia and Lorne Frank
Mr. and Mrs. Tim Franzen
David Fraser
Ms. Marilyn Fredrickson
Ms. Rebecca Garcia
Ms. Margaret R. Glenzinski
Ms. Joann Gras
Ms. Adrianne Gregory
Mr. Bruce Guzman
Catherine and Art Hall
Greg and Alexandra Hart
Brad and Victoria Hauserman
Jean M. Hawkinson
Mr. and Mrs. John D. Hlotke
Judy A. Hoskins
Mr. and Mrs. Frank C. Hudetz
Stephanie Iglehart
Mr. Bob Jackula
Janet and John Judd
Mr. and Mrs. Paul W. Junkroski
Ms. Barbara Kamm
Karl and Lee Ann Karnatz
Virginia and Charles Klingsporn
John P. and Catherine M. Kos
Michael F. Kozlowski
Gregory and Kristine Larsen
Ms. Bernadette Laszewski and Mr. John Fossen
Mrs. and Mr. Cindy Lattimer
Massimo Letizia
Ms. Alixe Lischett
Mrs. Hsiu Susan Logan
Mr. and Mrs. Ross Manire
Marinella's Ristorante Italiano
Mr. and Mrs. Daniel E. Marsh
Mr. and Mrs. Rick Massa
Mr. and Mrs. William E. Matte, Jr.
McAninch Art Center at College of DuPage
Ellen and Daniel McGowan
Florine McKay
Ms. Beatriz Mendoza
Nina and Mark Menis
Dr. and Mrs. John Messitt
Mr. and Mrs. Kenneth Metcalfe
Monarch Landing
Mr. and Mrs. Darren Morrison
Mr. and Mrs. David W. Morton
Ms. and Mr. Jane Mrofka
Barbara and Ted Nagengast
Mr. and Mrs. John Nassos
Ms. Kerry O'Brien and Mr. Doug King
Mr. Dan O'Connor
Ms. and Mr. Adriana Ohl Zamora
Olive 'N Vinnie's Oil and Balsamic Bar
Ms. Debra Ombrello
Gayle Orlando
Ms. Vivian Palicki
Mr. Jim Peterson
Mr. and Mrs. Kenneth Peterson
John J. and Mary A. Plunkett
Press Photography Network
Brian and Ambika Reid
Ms. Patricia Read
Barb and Kell Reimann
Richard J.and Linda J. Sieracki Foundation
Ms. Rene' M. Richards
Mr. and Mrs. Kirk T. Roberts
Ms. Yolanda E. Rocio
Rotary Club of Bloomingdale-Roselle
Janey Sarther
Mr. Larry Schouten
Jerry and Susan Schurmeier
Dr. Thomas R. Scott
Mr. Gerald Sendra
Mr. and Ms. Andrew Smith and the Andrew and Maria Smith Charitable Fund - Fidelity Charitable
Mr. Vince Sparrow
Chris Steinys
Lisa and Ted Stevens
Suzan and Glenn Stith
Ms. Janet Stiven
Cherry Stoddard
Su Ki's Salon
Ms. Patti Taves
Ms. Marie L. Tenzinger
The Sentius Charitable Fund
John and Colleen Tovar
Mr. David Victor
Mr. and Mrs. John W. Vires
Kathryn Voland-Mann
Mr. Jeremy Vrtis
Ms. Deborah Walsh
Mr. Edward Warmowski
Ms. Nancy Webster
Western Springs Music Club
Ginger and Paul Wheeler
Ms. Olivia Schreiner and Mr. Justin Witte
Jerry and Lin Zielinski
Mr. and Mrs. Thomas Zimmermann
Friend ($50-249)
Anonymous (19)
A Toda Madre
Sue Adams
Peggy Aldworth
Nancy Allured
American Association of University Women - Lombard
American Association of University Women
Tina Connelly and Dennis Anderson
Andrew's Garden
Ms. Nancy Arango
Ms. Christine A. Aument
Avanzare Restaurant
Cynthia Baranowski
Darlene Barger
A. C. Barnicle
Bob and Joy Barrell
Ms. Constance Barreras
Amelia Barrett
Debbie Barrett and Barry Zelinski
Ms. Pam Bartle
Ms. Betty Basista Ronaldson
Betty and Bob Becker
Ms. Beverly J. Bednarik
Biff Behr and Lynne Richman
Ms. Colleen Bell
Ms. Patricia Bell-Daniels
Marty and Betty Bender
Mr. and Mrs. Bradley Bensenberg
Mr. Gregory Bewick
Mr. Leonard Bielefeldt
Mr. and Mrs. Chris Binnig
Mrs. Germaine Bird
Ms. Dianne Birdsall
Mr. and Mrs. Paul Bolbat
Mr. and Mrs. James Borus
Mr. and Mrs. Larry Boward
Susan Brassfield
Mr. Gerard Brosnan
Ms. Joanie Brosnan
Mr. George Bruce
Nickey Brummel
Dr. and Mrs. John E. Buntrock
Mr. and Mrs. Charles C. Burgis
Mildred and Harold Burrow
Mr. and Mrs. Robert Burrows
Mr. and Ms. Mark Bussey
C.B. Conlin Landscapes, Inc
Mr. and Mrs. Will Calderwood
Cantigny Golf Club
Ms. Virginia Cantu
Ms. Katherine Carmichael
Ms. Jennifer Carrillo
Jim Carsten
Mrs. Janet Casey
Mr. Joseph Cassidy
Mr. Bruce Caster
Ms. Lourdes S. Chew
Ms. Nancy Chlumsky
Ms. Diana Christopher
Mr. and Mrs. Mike Cittadino
Mr. and Mrs. Alan L. Clark
Ms. Michele Clemen
Judy Coates
Ms. Linda Coen
Ms. Gretchen Colavito
Mr. and Mrs. Jim Connolly
Peggy Connolly
Mr. and Mrs. Paul L. Conti
Ms. Patricia Conway
Ms. Erica Coppolino
Bill Curry and Gretchen Fleming
Ms. Diane M. Curtis
CycleBar Wheaton
Lee Dabkey
Jeanne E. Davik
DC Body Bar
Marilyn and Gene Dicola
Ms. Katheryn Dillon
Ms. Rosalinda Dominguez
Mark and Kim Dorn
DoubleTree by Hilton Lisle Naperville
Ms. Alice Douglas
Ms. Margaret Doyle
Alan and Carolyn Drake
Bruce and Kathy Dudzik
Jenny Dunbar
Ms. Anita Dykema
Daniel Edelman and Fran Kravitz
Mr. and Mrs. Thomas B. Egan
Penelope Ellsworth
William Epcke
Ms. Jennifer Evans
Miles Evans
Expedia
Ms. Ann Fink
Mr. and Mrs. Todd Fischer
Ms. Janice L. Fogle
Eric and Marilyn Fors
Ms. Judith D. Frazier
Ruta Freimanis
Jay French
William Fullriede
Fusion Hair Salon
Ms. Anne Gabriel
Jan Gahala
Ms. Jo Anne Ganziano
Mary Jane Garrett
Mr. Christopher A. Gekas
James and Nancy Gianfrancisco
Bob and Carrie Gibson
Mr. and Mrs. Jeffrey Gibson
Mr. and Mrs. Daniel Glab
Glen Ellyn Historical Society
Dr. Gloria Golec
Mr. Gerald W. Good
Ms. Anne Gould
Ms. Kathleen Graffam
Jack and Robin Graham and the Graham Giving Fund of Fidelity Charitable
Lenn Grayes
Ms. Aldona Green
Ms. Cathy Griffin
Ms. Wanda Gustas
Donna Guy
Ms. Laura Guzman
Kim Hahn
Mr. and Mrs. David Hall
Ms. Amy Hallowell
Ms. Karen Hanmer
Lubna and Faraz Haque
Ms. Leah Harding
Diana and Gary Harper
Mr. and Mrs. Thomas R. Hattan
Ms. Jennifer Hayward
Mr. and Mrs. Edward M. Hegarty
Paula and James Hellige
Ms. Ann B. Henderson
Mr. and Mrs. Rich Henderson
Mr. Lloyd Hendrickson
Susan S. Hennig
Ms. Susan Hervey
Sandra Hill
Ron Hilton
Allan G. Hins and Marilyn E. Wilgocki
Ms. Heidi J. Holan
Ms. Rosa Lidia Huante
Illinois Tool Works
Ms. Pam Imbeau
Fatenah Issa
Mr. Charles Jakubowski
Ms. Joanne Jannsen
Ms. Adriana Janutka
Ms. Marilyn L. Jelinek
Ms. Jean M. Jeske
Edward and Susan Jeszka
Mary Ann Jirak
Mr. and Mrs. Tomas Johansson
Tony and Julie Johnson
Mr. Brian K. Johnson
Mr. Timothy Johnson
Jolie Charcuterie
Ms. Felicia S. Kaplan
Tom and Kay Kelly
Ms. Violet Kerbbel
Mr. Dylan Kim
Mr. Randolph King
Ms. Bernadette Kniebusch
Ms. Carole Kohout
Elaine and Roger Kolman
Ulrike Konchan
Ms. Anne Kopke
Ms. Lori Kramer
Ms. Shelley Krause
Ms. Serena Krush
Ms. Claire Krzyzewski
Mr. and Mrs. Thomas J. Kuhn
Linda Kulikowski
Mr. John Kunkes
L.L. Bean
Mr. John L. Ladle, Jr.
Ms. Kathryn S. Lahey
Mr. and Mrs. William Laing
Eileen B. Landau, Fidelity Charitable Trust, in Memory of Eliot A. Landau and Cateria A. Pryde
Ms. Lea Lazarus
Ms. Cheryl LeeVan
Mr. and Mrs. John Liedtke
Travis Linderman
Ms. Andrea Lindgren
Ms. Harriett Lindstrom
Ms. Donna J. Luce
Mark and Kathleen Lundberg
Liz Luszczek
Ms. Anne Lysaught
Maestro Artist Management
Leal Maloney
Madeleine and Ralph Marbach
Diane Maurer
Ms. Christine Maxwell
Jeffrey May
Ms. Elaine McCluskey
Mrs. Dorothy McCormack
Ms. Kathleen McCullough
Ann McDonald
Mr. and Mrs. David M. McGowan
Mr. and Mrs. James McGuire
Mary and Ray McMahon
Ms. Susana Melgoza
Meson Sabika
Michael and Sandra Meyers
Mrs. Wayne J. Micek
Mr. and Mrs. Francis Mies
Mr. and Mrs. Craig Miller
Ms. Kendra Miller
Ms. Liz Minogue
Ms. Cheryl R. Moen
Daniel and Marilyn Montgomery
Bud and Pat Motz
Mr. and Mrs. Don Motz
Ms. Lois Mouhelis
Ms. Phyllis A. Mueller
Terry Mueller
Ernest and JoAnne Nassos
National Museum of Mexican Art
Michael and Judith Nigro
James and Joan Nocera
Mr. John L. Norton
Ruth Oberg
Ms. Tonya Ohern
Gwen O'Loughlin
Ms. Judith W. Olson
Ms. Natalie Owen
Alice E. Packard
Greg and Sue Pawlowicz
Ms. Kimberly Peckenpaugh
Ms. Ruth Peterman
Ms. Erin Peterson
Rohan and Merlyn Phillips
Mr. and Mrs. Edward Pillar
Pinecones & Stitches
Lisa Pint
Roger and Sarah Poeppel
Ms. Cassandra J. Ponstein
Quintin Porter
Mrs. Karen Poulos
Ms. Lynda Pratscher
Roger and Vivian Pscherer
John and Mandy Rakow
Ms. Mari Kaye Rath
Mr. William C. Raymond
Ms. Tracey J. Reid
Reserve 22 Restaurant at Village Links
Mr. Leslie Robbins
Marlene and Bob Rosecrans
Ms. Patricia M. Rotondi
Mr. and Mrs. Gus A. Rousonelos
Nancy L. Ruby
Mr. and Mrs. Larry Rynning
Sandra Sansone Brennan
Alfred Savino
Mr. Russ Scanio
Ms. Carleen L. Schreder
Mr. Carl Schref
Ms. Jane E. Schubert
Richard and Patricia Schwarze
Gerry Sczygiel
Ms. Sherie Shapiro
Ms. Vicki L. Shargo
Awad and Rhoda Sifri
Ms. Susan Simek
Mike Sitrick
Mrs. Helen W. Sladek
Ms. Peggy Slepian
Mr. and Mrs. Stephen Smith
Ms. Rosemary Snow
Ms. Faria Sepahrokh
Ms. Barbara Soris
Ms. Patricia B. Spence
Mr. and Mrs. Hugh Spencer
Mrs. Sherry Spengel
Ms. Catherine Sreckovich
Lynn St Germain
Ms. Eliza Stern
Dr. and Mrs. Conrad Stoll
Ms. Cheryl Stoneking
Mr. and Mrs. John Stotts
Melissa Striedl
Norma C. Stroner
Ms. Angela Stroud
Mr. and Mrs. Thomas J. Suhrbur
Ms. Melissa Sullivan
Dr. Nancy Svoboda
Grace and Len Swanson
Katherine Swihart
Dr. Diane R. Szakonyi
Kasia Szczesniewski
Tom and Jan Szot
Ms. Helen B. Szymanski
Ms. Kathleen Talenco
Ms. Macarena Tamayo-Calabrese
Ms. Laverne Tedeski
Ms. Donna Templeton
Mr. John Teschky
Virginia and Jerry Thompson
Paul Thompson
Treasure House Resale Shop
Trinity Irish Dancers
Colleen and Paul Trinko
Ms. Robin S. Tryloff
Mr. Thomas Turigliatto
Ms. Nancy H. Turner
Ms. Carol Upshaw
Patricia and Anthony Vahcic
Ms. Lisa Vargas
Ms. Francine Venegas
Ms. Deborah L. Venezia
Mr. and Mrs. Michael Volk
Ms. Helen Vopenka
Ms. Patricia Vopenka
Judith Wagner
Penelope Wainwright
Ms. Cathleen Wallin
Larry Ward
Judy Webster
Ms. Mary Lou Wehrli
Patricia and Richard Weichle
Robert and Marlene Weiler
Anne and Jim Wengerd
John and Bobbi Wheatley
Whiskey Acres
Robert and Jeanne Whisler
Ms. Mary Wiesen
Lenore Wilcox
Mr. Tod D. Willman
Ms. Paula Willuweit Pyrcik
Joseph and Laura Wilmarth Tyna
Ms. Jolene Wise
Ms. Ying L. Wong
Mr. John Wright
Ms. Janice Yohanan
Diane Meiborg and Roger Zacek
Ms. Sabrina N. Zeidler
Mr. Richard Zuckerman
Corporate and Community Sponsors
21c. Museum Hotel
A Toda Madre
A.Traub & Associates
Adelle's Fine American Fare
Aero Mexico/Delta
AIG Retirement Services
American International Group
Arts Midwest
Bank of America
Ball Horticultural Company
Bat 17 Lombard
Brookdale Glen Ellyn
Christopher B. Burke Engineering
Clayco
College of DuPage Foundation
Crowne Plaza Hotel
DoubleTree by Hilton Lisle Naperville
DuPage Convention and Visitors Bureau
DuPage Foundation
Ecolab
El Famous Burrito
Enjoy Illinois/Department of Commerce and Economic Opportunity
Extract Juicery
Follett
G. Carl Ball Family Foundation
Glen Prairie
Goya Foods
Illinois Arts Council Agency
JCS Fund of the DuPage Foundation
La Tequileria, Inc.
Legat Architects
Naperville Convention and Visitors Bureau
National Endowment for the Arts
Nicor Gas
Nobel House
Nothing Bundt Cakes
Reserve 22
Rotary Club of Bloomingdale-Roselle
Rotary Club of Carol Stream
Rotary Club of Glen Ellyn
Rotary International District 6440
Rotary International District 6450
Santa Fe Restaurant
Small Business Administration-Shuttered Venue Operators Grant
STG Divorce Law
90.9FM WDCB
West Suburban Art Society
302 Wheaton
Wheaton A.M. Rotary Club
Wight and Company
WXRT
* includes Seaton Society