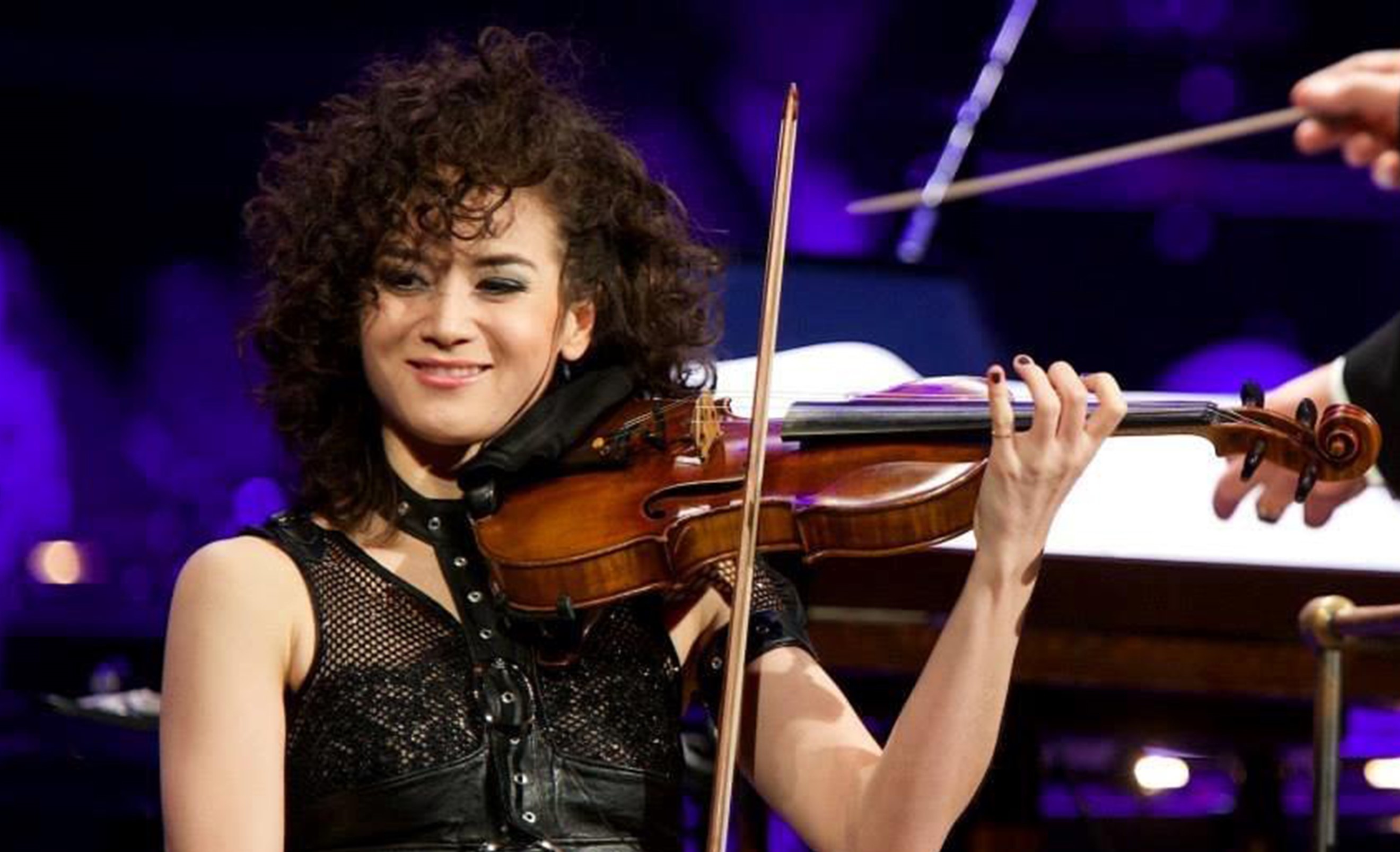 As a Symphony concertgoer, you have witnessed the exceptional orchestra Music Director Troy Quinn continues to build. Our reputation as a force in music performance and education has grown beyond our expectations. Securing and retaining the top artists in the field is costly, but we are committed to giving you a Symphony experience that rivals any in the Country.
Our vision of uniting through music and our mission to transform lives through exceptional musical experiences has never been more relevant. Our commitment to investing in our youth has never been stronger. As we look toward our milestone 50th season, with your investment, the future could not be brighter.
You can help us reach more people through world class symphonic music. If you have already donated, thank you so much. If you would like to donate today, envelopes are available at our information table in the lobby. You may also give by clicking here. All Holiday Appeal donors will be recognized in the March 2023 Concert program book.

TRANSFORMING LIVES THROUGH MUSIC
Cinematic Romance
| | |
| --- | --- |
| February 3, 2023 | | 7:30 pm |
| February 4, 2023 | | 3:30 and 7:30 pm |

Troy Quinn, Music Director


---
MAX STEINER

Gone With the Wind

MAX STEINER

Casablanca Suite


BERNARD HERRMANN

Scene d'amore from Vertigo

DANNY ELFMAN

Edward Scissorhands Suite
Sandy Cameron, Violin
with Key Chorale Women's Ensemble and Sarasota Ballet Studio Company

NINO ROTA
arr. Henry Mancini

Love Theme from Romeo and Juliet


ENNIO MORRICONE

Love Theme from Cinema Paradiso
Sandy Cameron, Violin

CARLOS GARDEL
arr. John Williams

Tango (Por Una Cabeza) from
Scent of a Woman
Sandy Cameron, Violin

INTERMISSION


| | | |
| --- | --- | --- |
| LEONARD BERNSTEIN | | Symphonic Dances from West Side Story |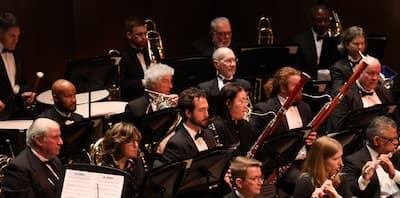 FIRST VIOLIN
Marcus Ratzenboeck
Concertmaster
Hannah Cho
Associate Concertmaster
Stephen and Redenta Picazio Chair
Anastasia Petrunia
Assistant Concertmaster
Schultz-Hill Foundation Chair
Katherine Gilger
Edward and Patricia Crary Chair
Christina Adams
Samuel Arakelyan
Erik Berg
Sidney and Suzanne Durham Chair
Liana Branscome
Rev. Chris and Paula Gray Chair
Francisco Diaz
Hannah Maclean
Karissa Ratzenboeck
Joseph and Maureen Bentley Chair
Eliot Roske
---
SECOND VIOLIN
Amy Rawstron Watson, Principal
Beatrice Holt Chair
Wallace DePue, Assistant Principal
Barbara Freeman Chair
Sungho Jung
Natalia Maiden
Tania Moldovan
Alvaro Pereiro
Nicole Rawley
Imanuel Sandoval
Dana Tolan
Mario Zelaya


---
VIOLA
Rafael Ramirez, Principal
Elliott and Dana Corn Chair
Abigail Cross, Assistant Principal
Fred and Cindy Gossman Chair
Yaniv Cohen
Michael and Ginger O'Keefe Chair
Jim Griffith
Joseph Henderson
Monica MacMichael
Ralph Andrew and Linda Self Chair
Oana Potur
Teal Vickery
---
CELLO
Shea Kole, Principal
Thomas and Martha Galek Chair
Julia Tretyakova, Assistant Principal
Michael and Patricia Dunlap Chair
Susan Debronsky
Paul Fleury
Sarah Huesman
Antonio Innaimo
Peter and Jean Huber Chair
Helen Lewis
Chris Pegis
---
BASS
Christopher Riley, Principal
John Myers Chair
Trent Harper, Assistant Principal
Kenneth and Selma Bitz Chair
Kevin Gallagher
Jonathan Ingram
Laura Miranda
Jordan Nashman
---
FLUTE
Nicolás Real, Principal
David and Angela Kennedy Chair
Angela Massey
John and Julia Osborne Chair
Taylor Irelan
---
PICCOLO
Taylor Irelan
---
OBOE
Amy Collins, Principal
George De Luisi Chair
Lauren Murray
John Fischer and James Weisenborne Chair
Josh Hall
---
CLARINET
Asher Carlson, Principal
Wesley John Schumacher Chair
Kelsey Castellanos
Dennis and Ruthanne Neeser Chair
Michael Drapkin
Vinod and Gail Sahney Chair
Sergey Gutorov

---
BASS CLARINET

Michael Drapkin
BASSOON

Patrick Broder, Principal
Stephen and Nancy Eibling Chair
Kevin Fuller
Frederick and Claudette Varricchio Chair
Daniel Beilman
---
HORN
Joseph Lovinsky, Principal
Bill and Sara Gill Chair
Chase DeCarlo
Frank Codella Chair
Caiti Beth McKinney
Floyd and Mary Juday Chair
William Bard
Christopher Rapier
Gerhard and Edith Mueller Chair
---
TRUMPET
Kris Marshall, Principal
Henry and Barbara Price Chair
Dan Kassteen
Bert and Janetta Nicholson Chair
Ken Brown
Jeff Wooldridge
---
TROMBONE
Joe Offner, Principal
Bill and Sara Gill Chair
Tom McNair
Tom Brantley
---
BASS TROMBONE
Nathan Petersen
---
TUBA
Joseph Alvarez, Principal
Brian and Ruth Smith Chair
---
TIMPANI
Gavin Dougherty, Principal
David Chivas and Ron Rice Chair
---
PERCUSSION
Dana Kimble, Principal
Robert Gilbert Storyk Chair
Al Lyman
James and Lynn Crandall Chair
Mike Woods
Nick Bruno
Denis Petrunin
---
HARP
Anya Garipoli, Principal
Sean and Esther Kelly Chair
Melody Rapier
---
KEYBOARD
Judi Glover, Principal
Joanne Corcoran Chair
Diane Earle
---
SAXOPHONE
Pete Barenbregge
GUITAR
Tom Jemmott
---
2022-23 Season Music Sponsors
Stephen and Redenta Picazio
---
The Venice Symphony
is a proud member of

Austrian composer Maximillian "Max" Steiner (1888- 1971) is often called "the Father of Film Music. Steiner's career was a given. His father and grandfather produced operettas, Richard Strauss was his Godfather and Johann Strauss gave Max his first piano. Max Steiner was a true musical prodigy and thanks to his father's connections, studied under Johannes Brahms and Gustav Mahler. He wrote and conducted his first operetta as a teenager and graduated from the Imperial Academy of Music in Vienna, going on to conduct in London and Paris He fled Europe for the U.S. in 1914 and in 1917, legendary producer Florenz Ziegfeld hired Steiner to conduct his famed Follies productions. Steiner became a US citizen after the War and moved to California and the blossoming business of film music. He became General Music Director for RKO Studios, where he composed music for more than 100 films from Westerns to musicals, and the groundbreaking score for 1933's King Kong.
Steiner went on to compose the Oscar-winning score for Now Voyager and many other films including the two you will hear today, 1942's Casablanca and 1939's Gone with the Wind. He continued to compose for film until the 1960s, collecting an impressive 18 Academy Award nominations. Steiner was inducted into the Songwriters Hall of Fame in 1955 and received a posthumous star on the Hollywood Walk of Fame in 1975. Want to learn more? Check out the 2022 documentary Max Steiner: Maestro of Movie Music on HBOmax.
Daniel "Danny" Elfman, b.1953, may be best known as the composer of nearly all of writer/director Tim Burton's films including Batman, Beetlejuice, The Nightmare Before Christmas and 1990's Edward Scissorhands. You will hear Sandy Cameron perform the Suite from that film today. Elfman also wrote the scores for dozens of other films including Good Will Hunting, Milk and Fifty Shades of Grey. The music that's kicked off every episode of The Simpsons for the last 30 years? That's Danny Elfman. Ditto, the theme for the hit Netflix series Wednesday. Something you may not know about Elfman, he first became famous as a member of the New Wave band Oingo Bongo.
For some insight on Symphonic Dances from Leonard Bernstein's(1918 - 1990) groundbreaking score of the 1957 musical West Side Story, we went straight to leonardbernstein.com.
The music you will hear is arranged so that each section flows to the next without a break. The Prologue (Allegro moderato) illustrates the building rivalry between the Sharks and the Jets. Somewhere (Adagio) is "a dream ballet where the gangs are united in friendship." Scherzo (Vivace e leggiero) continues the dream as the gangs leave the city for a more open space. Back in the "real world" it's Mambo (Meno Presto) as the gangs compete in dance. Doomed lovers Tony and Maria dance together in Cha-cha (Andantino con grazia) and Meeting Scene (Meno mosso). That is followed by Cool Fugue (Allegretto) featuring the Jets and Rumble (Molto allegro) when gang leaders Riff and Bernardo, are killed. The Finale (Adagio) focuses on Maria's mourning her lost love.
BONUS DIGITAL PROGRAM CONCERT NOTES