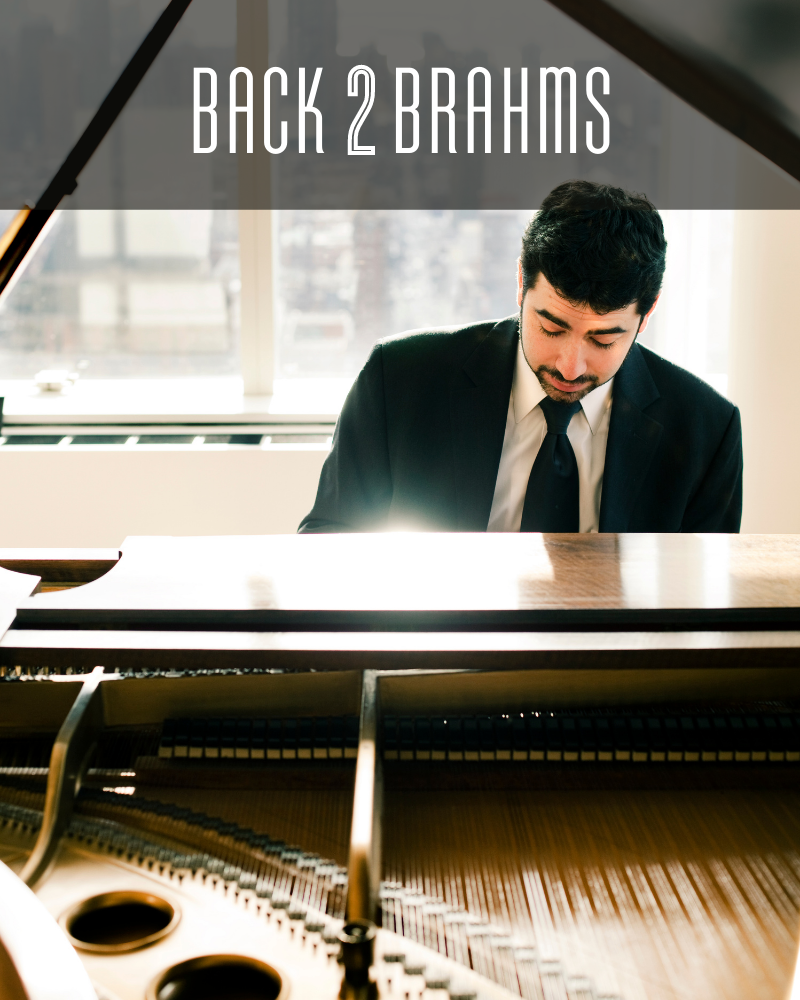 back 2 brahms
WICHITA SYMPHONY ORCHESTRA
SUNDAY, NOVEMBER 7, 2021 | 3 PM
CENTURY II CONCERT HALL
Daniel Hege, Music Director & Conductor
Michael Brown, Piano
---
SAMUEL COLERIDGE-TAYLOR (1875-1912)
4 Novelletten for String Orchestra, Op. 52 (9')
I. Allegro Moderato
IV. Allegro Molto
MICHAEL BROWN (b. 1987)
Concerto for Piano and Strings (25')
I. Allegro, with pep and flexibility
II. Largo, with generous rubato and expressivity
III. Lively, with urgency and vigor
Michael Brown, Piano
- There will be a 15-minute intermission. Please note that there will be no concessions. -
JOHANNES BRAHMS (b. 1833-1897)
Symphony No. 2 in D Major (43')
I. Allegro non troppo
II. Adagio non troppo
III. Allegretto grazioso
IV. Allegro con spirit
Concert length is approximately 90 minutes. Movement timings are approximate and provided for the listener's information.
---
This program will be broadcast on Radio Kansas, 90.1 FM, Friday, January 21, 2022 at 7pm.
This concert made possible in part by a generous gift from:
THE JAYNE AND GLENN MILBURN FUND
Unless otherwise announced, the use of cameras or recording devices during concerts is strictly prohibited.
PERSONNEL
VIOLIN 1
Holly Mulcahy, Concertmaster
S. M. and Laura H. Brown Charitable Trust
Endowed Chair
Timothy Jones, Associate Concertmaster
Bobbie and Marvin Bastian Endowed Chair
Lauran Hammes Black
Marta Prugar-James
Linette Gordon
Nancy Woodruff
Rebecca Schloneger
Fiona Brickey
Joan Griffing
Joan Pfaff
Landon Roy
VIOLIN 2
Nancy Johnson, Principal
Dominique Corbeil
Ann Samuelson
Judy Naillon
Virginia Brungardt
Shelley Closson
Elizabeth Wallace
Yiming Zhou^
Michael MacLaughlin^


VIOLA
Catherine Consiglio, Principal
Larry and Anita Jones Endowed Chair
Rosemarie Barney
Kristen Smaglik
Emily Baldridge
Kay N. Buskirk
Lillian Green
Luis Carlos Rincon Barrios
CELLO
Leonid Shukaev, Principal
Lois Kay Walls Foundation Endowed Chair
Camille M. Burrow
Trish Hart
Susan Mayo
Tiffany Bell Rhodes
Laura Clark Martinez
Quinn Lake
Ailed Garcilazo^
BASS
Mark Foley, Principal
Eric L. Crawford
Marcia Hatfield
Kirsten Moler
Kathy Luttrell
Landon Bartel^
FLUTE
Carmen Lemoine, Principal
Mitchell A. Berman Endowed Chair
Christina M. Webster
OBOE
Kristin Weber^, Principal
George and Marilyn McNeish Endowed Chair
Aaron Robinson

CLARINET
Rachelle Goter, Principal
Leah Bernstein^
BASSOON
Zach Hague, Principal
Maya Grossman
FRENCH HORN
Jeb Wallace, Principal
Maggie Barnes, Assistant Principal
Kenshi Miyatani
Jacob Rensink
Ben Bacni
TRUMPET
David Hunsicker, Principal
Daniel J. and Shoko Kato Sevart Endowed Chair
Henry Zimmermann

TROMBONE
Brent Mead, Principal
Matt Blauer
David Muehl
TUBA
Phillip C. Black, Principal
TIMPANI
Gerald Scholl, Principal
PRODUCTION STAFF
Matt Blauer, Personnel Manager
Nancy Johnson, Librarian
Urza Silverwind, Technical Director
^Denotes substitute musician