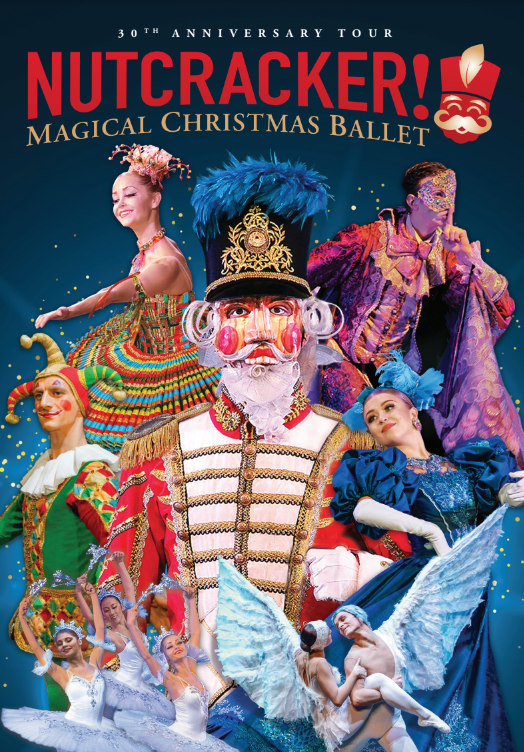 This Christmas, bring the whole family back to a simpler time with NUTCRACKER! Magic of Christmas Ballet! The acclaimed holiday tradition is LIVE in theaters for the 30th Anniversary tour.
Gather friends and family to re-live your fondest childhood dreams, overflowing with larger-than-life puppets, breath-taking acrobatics and dazzling costumes. Experience the exquisite artistry of the international cast, featuring stars of Ukraine ballet, performing at the highest level of classical technique.
---
7:00PM
at
SKyPAC
601 College St.
Bowling Green, KY 42101
Synopsis
Act I
It is Christmas Eve at the Stalhbaums. Clara and her little brother Fritz watch with excitement as Uncle Drosselmeyer entertains their guests with puppets, toy soldiers, and his latest inventions - delightful mechanical dolls. With the turn of a key, Kissy Doll pirouettes, Harlequin leaps, and the Moor Dolls spin at a dizzying speed. But for Clara, the best gift of all is a Nutcracker Doll with its red soldier's jacket and huge jaws for cracking nuts. Fritz plays too rough and breaks the Nutcracker.
Heartbroken, Clara places the wounded Nutcracker under the Christmas tree and falls asleep. As the clock strikes 12, her dreams turn into a nightmare! An army of mice led by the dreadful Rat King is attacking her, but the brave Nutcracker rises up to defend her. They defeat the Rat King and all is calm as they travel through the Winter Forest with Father Christmas and Snow Maiden and dance among the Snowflakes.
Act II
Opens in the Land of Peace and Harmony where NUTCRACKER! Magical Christmas Ballet's exclusive Dove of Peace greets Clara and her Nutcracker Prince. e lovely Dove escorts them on a journey where the Prince introduces Clara to his friends from around the world. Clara and the Nutcracker Prince are entertained by the dancing couples and the playful animals that accompany them.
In the Land of Peace and Harmony where there are no wars, the graceful Dove symbolizes the universal yearning for peace; the Firebird in the Chinese Variation signifies new beginnings; the Elephant in the Arabian Variation represents Wisdom; the Unicorn in the French Variation our Imagination; the Bull in the Spanish Variation brings Daring and the Bear in the folkloric Folkloric Variation represents Strength! e night of festivities comes to a beautiful conclusion with Clara and the Prince leading the celebration in the Waltz of the Flowers.