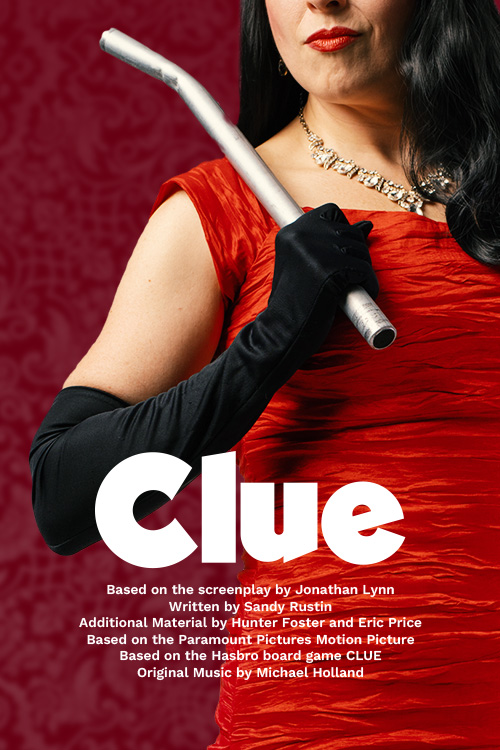 "Living without laughing isn't living. Be silly. Be honest. Be kind."
--Ralph Waldo Emerson
I've loved working on this play so much because it involves two of my favorite things: mystery and silliness.
Who among us doesn't love solving a mystery? Whether it's Agatha Christie, Sherlock Holmes, or even the modern-day Benoit Blanc of the Knives Out films, solving mysteries engages us on every level.
Which is why it's no surprise that Clue is one of the most popular board games of all time. It involves secrets and solutions, murder, and mischief. We roll dice, ask questions, and, by process of elimination, race toward a final accusation: "Colonel Mustard, in the Study, with the Candlestick!"
Along with being one of the great board games, Clue also inspired a well-known film upon which this play is based. It is famously funny, fast, and, most of all, silly.
Silliness has gotten a bad reputation over the years. The modern-day usage describes someone silly as "stupid", or "not serious." In fact, the word "silly" is derived from the German word "selig" which means: to be blessed.
I love this because, personally, I feel blessed whenever I'm around someone silly.
And I hope today, as you figure out whodunit, with what, and where, that we will also make you feel, well, silly.
- Nicholas Piper, Director of CLUE
Wadsworth
Justin Tyler Lewis*
Yvette
Libby Zabit
Miss Scarlet
Hannah Ingram*
Mrs. Peacock
Paris Bradstreet*
Mrs. White
Rita Cole*
Colonel Mustard
Vince McGill*
Professor Plum
Sean Maximo Campos*
Mr. Green
Zacchaeus Kimbrell*
Ensemble Woman
Zoë Velling
Ensemble Man 1
Sam McCalla
Ensemble Man 2
James Jiggetts
*Denotes members of the Actors' Equity Association, the Union of Professional Actors, and Stage Managers in the United States.
Director
Nicholas Piper
Scenic Designer
Derek Smith
Costume Designer
Lee Alexander Martin
Lighting Designer
Andrew Morehouse
Sound Designer
Miles Polaski
Fight Choreographer/Captain
Sean Maximo Campos
Assistant Stage Manager
Elizabeth Anne Green*
Production Stage Manager
Cindi A. Raebel*
Producing Artistic Director of Barter Theatre
Katy Brown
*Denotes members of the Actors' Equity Association, the Union of Professional Actors, and Stage Managers in the United States.
Production Assistant
Dylan Cote
Production Assistant
EJ Freed
Swing Dresser
Chantell Fuller
Gilliam Stage Carpenter
Patti Goebel
Assistant Wardrobe Supervisor
Beks Knost
Production Assistant
Lizzie Komosa
Wardrobe Supervisor
Emily Murray
Production Assistant
Holly O'Brien
Light and Sound Board Operator
L'Via Rodriguez
Clue is presented by special arrangement with Dramatists Play Service, Inc., New York.