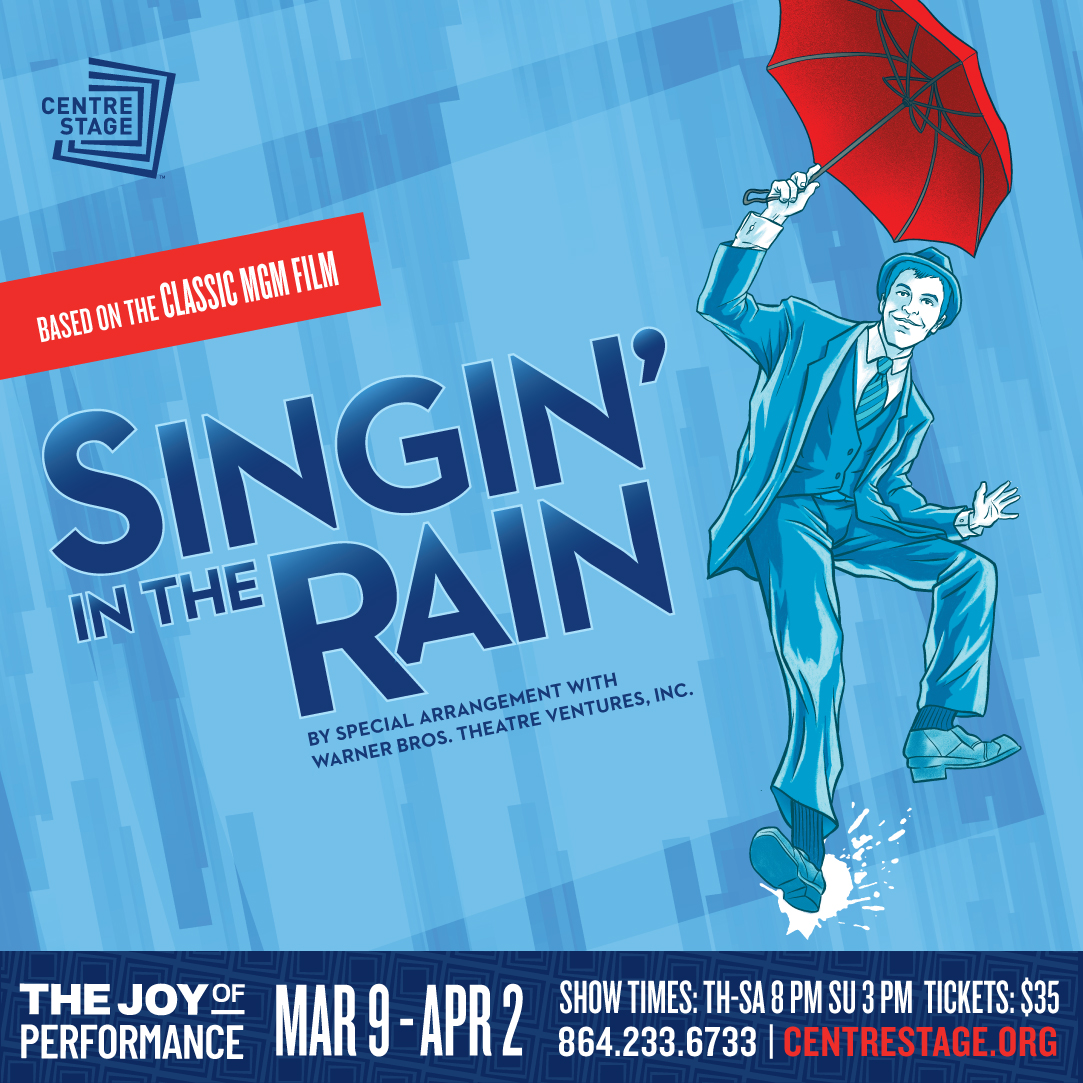 C E N T R E S T A G E
proudly presents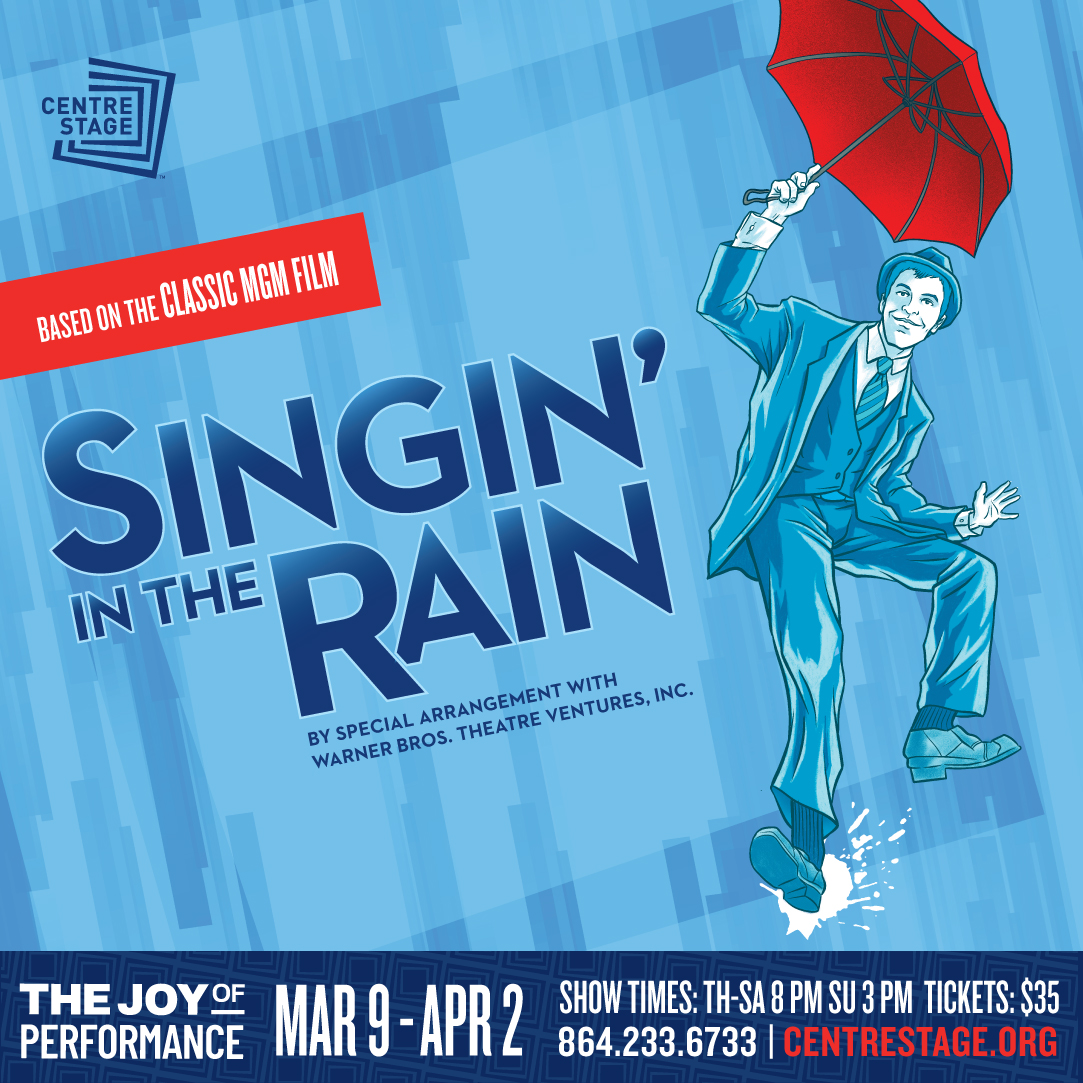 Screenplay by Betty Comden and Adolph Green
Songs by Nacio Herb Brown and Arthur Freed
Based on the classic Metro-Goldwyn-Mayer film, by special arrangement with Warner Bros. Theatre Ventures, Inc.
Music published by EMI, all rights administered by Sony/ATV Music Publishing LLC
March 9-April 2, 2023
Generously Sponsored By: Rolling Green Village
DIRECTOR
LAURA NICHOLAS
CHOREOGRAPHER
KATIE STEWART

MUSIC DIRECTOR
LAURA RITTER

PROPS MASTER
WENDY LYNN

AUDIO ENGINEER
WES TOLSON

LIGHTING DESIGN
PAUL KWOK

COSTUME DESIGN
STACEY HAWKES
STAGE MANAGER
SARA TOLSON
ASSISTANT STAGE MANAGER
SYLVIA LAFFERMAN
Any video and/or audio recording of this production is strictly prohibited.
Singin' in the Rain is presented through special arrangement with Music Theatre International (MTI). All authorized performance materials are also supplied by MTI www.mtishows.com
8 (Original Movie Choreography by Gene Kelly and Stanley Donen)
Produced by Arrangement With Maurice Rosenfield, Lois F. Rosenfield and Cindy Pritzker, Inc.
Centre Stage is funded in part by a grant from the Metropolitan Arts Council, which receives funding from the City of Greenville, SEW Eurodrive, BMW Manufacturing Company, LLC, Michelin North America, Inc., and the South Carolina Arts Commission with support from the National Endowment for the Arts.
This project is also funded in part by the South Carolina Arts Commission which receives support from the National Endowment for the Arts.
CAST
DON LOCKWOOD.....CRAIG SMITH
KATHY SELDEN......CHEYENNE RIVENBARK
COSMO BROWN.......DRAKE KING
LINA LAMONT.....BAILEY TYLER
R.F SIMPSON ........MAURICE REED
ROSCOE DEXTER.......TOWNSEND REYNOLDS
ROD.......ANDY LECTURE
DORA BAILEY..... KELSEIGH REDMON
ZELDA..... ADELL EHRHORN
MISS DINSMORE..... ARLEEN BLACK
SID PHILLIPS..... TYLER PEARSON
OTHER ENSEMBLE......DANIELLE JEANJAQUET, MEGAN KNIGHT, CHRIS FOSTER, MIRANDA HARRISON, CARLEY TOMLINSON
FILM VILLAIN..... BENJAMIN NICHOLAS
---
PRODUCTION TEAM
LAURA NICHOLAS……DIRECTOR
ALLISON DUFFY……ASSISTANT DIRECTOR
LAURA RITTER……MUSIC DIRECTOR
KATIE STEWART.......CHOREOGRAPHER
ADELL EHRHORN......DANCE CAPTAIN
SARA TOLSON……STAGE MANAGER
SYLVIA LAFFERMAN……ASSISTANT STAGE MANAGER
NICHOLE NELSON.......SCENIC DESIGNER
ALEXIS MOREHEAD……SCENIC ARTIST
PAUL KWOK……LIGHTING DESIGNER
WES TOLSON……SOUND ENGINEER
STACEY HAWKES.....COSTUME DESIGN
JENNY BENNETT.....COSTUME COORDINATOR
WENDY LYNN...... PROPS MASTER
WILBUR MAUK.....PROJECTION OPERATOR
DALTON FOWLER.......SPOT LIGHT OPERATOR
BRIANNA DANLADI.......SPOT LIGHT OPERATOR
ASHLEY NEAL......BACKSTAGE CREW
MARY BANTON......BACKSTAGE CREW
COLLINS WHITE.....VIDEOGRAPHER
---
SPECIAL THANKS
Centre Stage would like to thank Issac Morehead, North Greenville University, Christ Church Episcopal School, and Greenville Theatre for their help with this production.