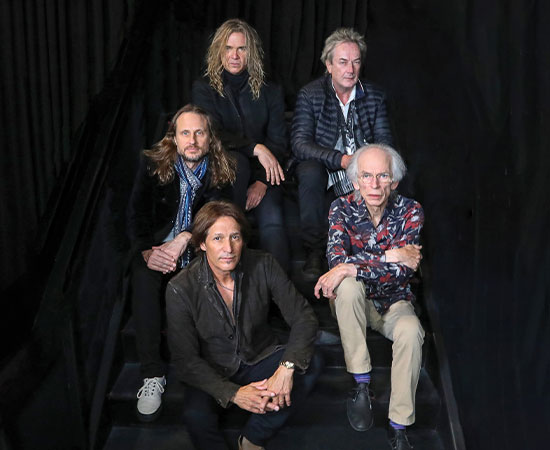 Formed in 1968 by Jon Anderson and the late, and much-missed, Chris Squire, YES have been one of the most innovative, influential, and best-loved bands in rock music history. Their 1970s albums The Yes Album, Fragile, Close To The Edge, Yessongs (a triple live album set), Tales From Topographic Oceans, Relayer, and Going For The One were ground-breaking in musical style and content. Their music also became synonymous with artist Roger Dean whose distinctive YES logo design and artwork adorned the lavish gatefold presentation sleeves of many YES albums.
With sales of over 50 million records, the Grammy® Award-winning YES were inducted into The Rock And Roll Hall Of Fame in 2017 where they performed Roundabout from the album Fragile and the FM radio-friendly "Owner Of A Lonely Heart" from the 1985 album 90125.
YES released their 22nd studio album in 2021, The Quest, produced by Steve Howe and which went to No. 1 in the UK Rock Albums Chart and entered the Official UK Album Chart at No. 20. In 2022 came the sad news that drummer Alan White, ever-present in the YES line-up for 50 years, had passed away. The news came shortly before the band embarked on their classic, genre-defining album Close To The Edge 50th Anniversary Tour which they dedicated to Alan.
In February 2023, ahead of the news of the new studio album Mirror To The Sky, YES confirmed Jay Schellen as the new permanent drummer with YES, hand-picked to step into his mentor and friend Alan White's role. "I had done the 2016 tour on my own for Alan," says Jay. "From late 2017 onwards, we had a beautiful partnership. I learned and discovered so much about Alan's style. His passion and creativity was phenomenal. The new album has Alan's presence all over it. It is inside of us. So, this is still, in my heart, Alan just being present and with us, and with me, in a big way."
The YES lineup includes Steve Howe (guitars, backing vocals), Geoff Downes (keyboards), Jon Davison (lead vocals, acoustic guitar), Billy Sherwood (guitar, backing vocals), and Jay Schellen (drums and percussion).