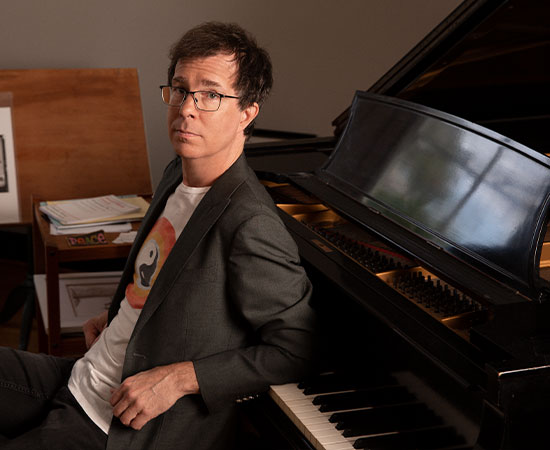 Ben Folds is widely regarded as one of the major music influencers of our generation.
The Emmy®-nominated singer-songwriter-composer has created an enormous body of genre-bending music that includes pop albums with Ben Folds Five, multiple solo albums, and numerous collaborative records.
His latest album What Matters Most was released this summer to rave reviews—MOJO Magazine called it "near flawless; a whole semester of song-craft in 40 minutes," Clash Magazine declared "Ben Folds just released what may well be the best songwriting record of the year…a tour de force."
He is currently on a global tour to promote it across the U.S., UK, and Europe this year. For the past three decades, he's toured as a pop artist, while also performing with some of the world's greatest symphony orchestras.
A New York Times Best Selling author and podcast host, Folds is also working on new compositions for film, TV, and theatre. He frequently guest stars in films and TV, and serves as the first Artistic Advisor to the National Symphony Orchestra at the Kennedy Center in Washington, DC.
In 2022, he launched a music education charitable initiative in his native state of North Carolina entitled "Keys For Keys," which provides funds and keyboards to existing nonprofits that provide free or affordable music lessons to interested school-age children. And he continually advocates for improving public policies for the arts and arts education on the national level as a member of Americans For The Arts and the Arts Action Fund.