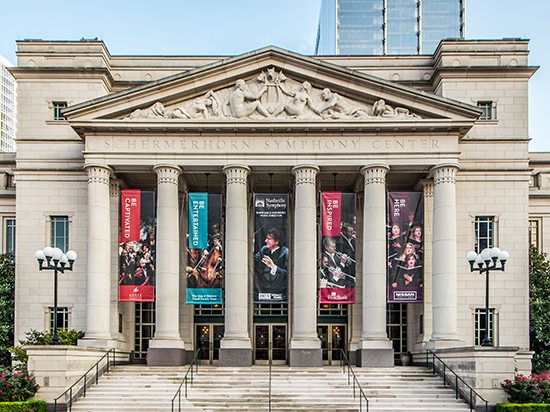 The Nashville Symphony inspires, entertains, educates and serves through musical performance, innovation, collaboration and inclusion.
Led by music director Giancarlo Guerrero, the Nashville Symphony has been an integral part of the Music City sound since 1946. In a typical year, the ensemble performs more than 150 concerts annually, with a focus on contemporary American orchestral music through collaborations with composers including Jennifer Higdon, Terry Riley, Joan Tower and Aaron Jay Kernis. The orchestra is equally renowned for its commissioning and recording projects with Nashville-based artists including bassist Edgar Meyer, banjoist Béla Fleck, singer-songwriter Ben Folds and electric bassist Victor Wooten.
An established leader in Nashville's arts and cultural community, the Symphony has facilitated several community collaborations and initiatives, most notably Violins of Hope Nashville, which spotlighted a historic collection of instruments played by Jewish musicians during the Holocaust. This community-wide effort engaged tens of thousands of Middle Tennesseans in 2018 through concerts, exhibits, lectures and more, and represents one of the largest initiatives ever organized around the Violins of Hope. As part of the project, the Nashville Symphony commissioned Jonathan Leshnoff's Symphony No. 4 "Heichalos" for the Violins of Hope. The orchestra's recording of this work, which was premiered during a string of sold-out performances in Nashville, is now available on Naxos.
The Nashville Symphony remains one of the most prolific recording orchestras in the U.S., with more than 30 releases on Naxos, the world's largest independent classical label. Encompassing a wide range of repertoire, from Beethoven to Bernstein to Joan Tower, these recordings have earned 14 GRAMMY® Awards and 26 nominations.
Schermerhorn Symphony Center, the orchestra's home since 2006, is considered one of the world's finest acoustical venues. Named in honor of former music director Kenneth Schermerhorn and located in the heart of downtown Nashville, the building boasts distinctive neo-Classical architecture incorporating motifs and design elements that pay homage to the history, culture and people of Middle Tennessee. Within its intimate design, the 1,800-seat Laura Turner Hall contains several unique features, including soundproof windows, the 3,500-pipe Martin Foundation Concert Organ, and an innovative mechanical system that transforms the hall from theater-style seating to a ballroom configuration.
In addition to its classical and education programming, the Nashville Symphony performs and presents a wide variety of pop, jazz, country and family performances at the Schermerhorn and at Ascend Amphitheater.
Find out more at: www.nashvillesymphony.org/about/.
Education and community engagement have been at the core of the Nashville Symphony's mission since its founding. Each year the organization reaches tens of thousands of children and adults through an array of free and low-cost programs, including Young People's Concerts for K-12 students; sectional lessons for band and orchestra students; free Community Concerts; and "Is It a Fiddle or a Violin?," its signature collaboration with the Country Music Hall of Fame® & Museum.
In 2016, the Nashville Symphony launched Accelerando, an initiative designed to prepare young musicians from underrepresented ethnic communities for collegiate study and professional orchestra careers. Currently, 20 participating students receive individual instrument instruction, performance opportunities, and guidance on applying to colleges and conservatories, all offered free of charge.
Find out more at: www.nashvillesymphony.org/education/.
Your Nashville Symphony
Nashville Symphony