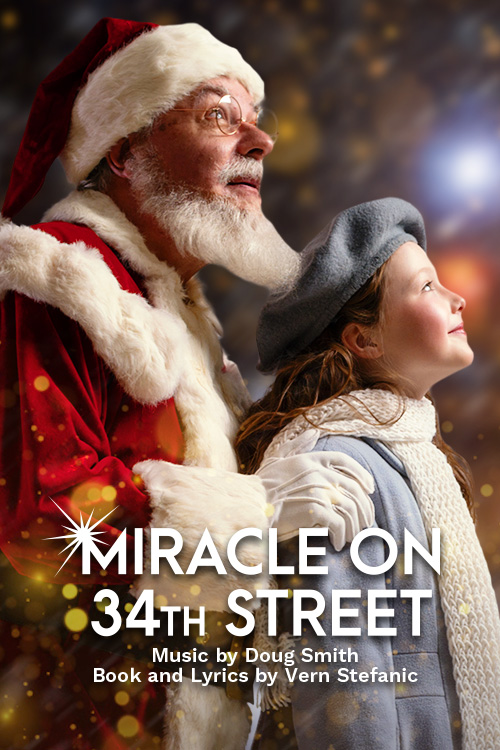 Kris Kringle says a line in this play that I keep coming back to again and again: "Christmas is the time when miraculous things happen." That's my favorite thing about this season: the possibility of extraordinary things happening at any moment. You feel this possibility in the crisp quiet of the first snow, in the smell of the Christmas ham in the oven at Grandmother's house, and in the twinkling lights in windows throughout town.
This story is full of extraordinary, miraculous moments—some big, others small. What other story has the real Kris Kringle working at Macy's during the Holidays? Or has a major department store sending business to their competition? But the biggest miracle in this story is that a group of people step out of their comfort zones and choose to believe in each other. Because these people believe in Kris, and because they have faith in each other, they experience a miracle. They allow for the possibility, and their lives are changed.
This year, when the shopping and pressures of the Holidays take our focus, may we also allow for the possibilities this season brings. After all, this is the time where miraculous things happen
- Barrett Guyton, Director of Miracle on 34th Street
Kris Kringle
Michael Poisson*
Doris Walker
Zoë Velling
Fred Gayley
Sean Maximo Campos*
Susan
Harper Mensch, Nora Jane Mitchell

Percy Shellhammer
Terrance Jackson
Dr. Pierce/Lou/Gimbel
Vince McGill*
McNamara/Dr. Sawyer
Nicholas Piper*
Mr. Macy
Zacchaeus Kimbrell*
Finley/Shopper/Photographer
James Jiggetts
Judge Harper/Gimbal's Assistant/Shopper/Brigitte's Guardian
Paris Bradstreet*
Salesperson/Alice
Marissa Emerson
Shopper/Reporter
Kailey Kyle
Mara/Shopper
Sam McCalla*
Shopper
Ashley Campos*
Salesperson
Jacob Nuti
Rachel
Alice Hollingsworth, Lydia Smith
Brigitte
Elizabeth Sandoe, Lydia Smith
Newsboy
Max Campos, Ben Hollingsworth
Tommy
Henry Smith, Ben Hollingsworth
*Denotes members of the Actors' Equity Association, the Union of Professional Actors, and Stage Managers in the United States.
Director
Barrett Guyton
Choreographer/Dance Captain/Intimacy Coordinator
Ashley Campos
Scenic Designer
Dan Ettinger
Costume Designer
Kelly Jenkins
Lighting Designer
Andrew Morehouse
Sound Designer
Matt Green
Dialect Coach
Zoë Velling
Assistant Stage Manager
Elizabeth Anne Green*
Stage Manager
Megan Ward
Producing Artistic Director of Barter Theatre
Katy Brown
*Denotes members of the Actors' Equity Association, the Union of Professional Actors, and Stage Managers in the United States.
Youth Cast Supervisor
Kaci Deakins
Production Assistant
EJ Freed
Swing Dresser
Chantell Fuller
Gilliam Stage Carpenter
Patti Goebel
Audio Supervisor
Matt Green
Assistant Wardrobe Supervisor
Beks Knost
Production Assistant
Lizzie Komosa
Wardrobe Supervisor
Emily Murray
Light and Sound Board Operator
L'Via Rodriguez
Spotlight Operator
Garrett Summitt
Spotlight Operator
Chris White
Premier Sponsor

Season Sponsors
Production Sponsors