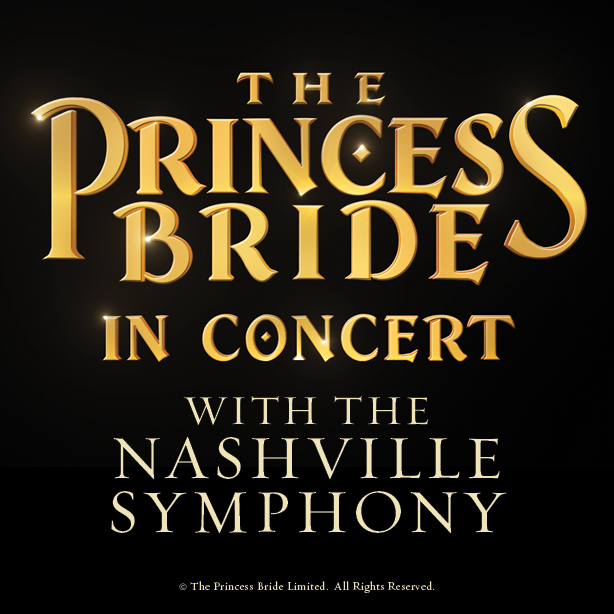 THE PRINCESS BRIDE IN CONCERT
Friday, October 29, 2021 | 07:00 PM
Saturday, October 30, 2021 | 07:00 PM
Schermerhorn Symphony Center
---

---
NASHVILLE SYMPHONY
Nathan Aspinall, conductor


ACT III COMMUNICATIONS Presents
A REINER/SCHEINMAN Production
WILLIAM GOLDMAN'S

CARY ELWES
MANDY PATINKIN
CHRIS SARANDON
CHRISTOPHER GUEST
WALLACE SHAWN
ANDRE THE GIANT
Introducing ROBIN WRIGHT
Special Appearances by PETER FALK
and BILLY CRYSTAL
Edited by
ROBERT LEIGHTON
Production Designed by
NORMAN GARWOOD
Director of Photographer
ADRIAN BIDDLE
Music by
MARK KNOPFLER
Executive Producer
NORMAN LEAR
Screenplay by
WILLIAM GOLDMAN
Produced by
ANDREW SCHEINMAN and ROB REINER
Directed by
ROB REINER
Tonight's program is a presentation of the complete film The Princess Bride with a live performance of the movie's entire score, including music played by the orchestra during the end credits. Out of respect for the musicians and your fellow audience members, please remain seated until the conclusion of the performance.
© Princess Bride, Ltd. All Rights Reserved.
Original musical score composed by Mark Knopfler © 1987 Straitjacket Songs Ltd. Used by Permission. All Rights Reserved.
"Storybook Love" written by Willy DeVille © 1987 Jockamo Music. Used by Permission. All Rights Reserved.
The Princess Bride in Concert is produced by Film Concerts Live!, a joint venture of IMG Artists, LLC and The Gorfaine/Schwartz Agency, Inc.
Producers: Steven A. Linder and Jamie Richardson
Director of Operations: Rob Stogsdill
Production Manager: Sophie Greaves
Production Assistant: Elise Peate
Worldwide Representation: IMG Artists, LLC
Technical Director: Mike Runice
Music Composed by Mark Knopfler
"Storybook Love" written by Willy DeVille
Musical Score Adapted and Orchestrated for Live Performance by Mark Graham
Music Preparation: Jo Ann Kane Music Service
Film Preparation for Concert Performance: Epilogue Media
Technical Consultant: Laura Gibson
Sound Remixing for Concert Performance: Chace Audio by Deluxe
The score for The Princess Bride has been specially adapted for live concert performance.
With special thanks to: Norman Lear, Mark Knopfler, Julie Dyer, David Nochimson, Paul Crockford, Sherry Elbe, James Harman, Peter Raleigh, Trevor Motycka, Bethany Brinton, Matt Voogt, Adam Michalak, Alex Levy, Adam Witt, and the musicians and staff of the Nashville Symphony.


www.filmconcertslive.com
Fencing, fighting, torture, revenge, giants, monsters, chases, escapes, true love, miracles... Experience this all-time favorite as never before, with the Nashville Symphony performing the musical score live!
Directed by Rob Reiner, The Princess Bride features an all-star cast including Robin Wright, Cary Elwes, Wallace Shawn, Mandy Patinkin, Chris Sarandon, Billy Crystal, Carol Kane, Christopher Guest, Fred Savage and André the Giant.
The great Peter Falk narrates this romantic tale of the beautiful maiden, Buttercup, and her one true love, a young farmhand named Westley. After he's captured by a ruthless pirate and presumed dead, Buttercup's unhappy marriage to the horrible Prince Humperdinck seems inevitable. But before the wedding can take place, she's kidnapped by three outlaws and it's up to a mysterious Man in Black to come to her rescue…
Now for the first time, composer Mark Knopfler's unforgettable score has been specially arranged for symphony orchestra. Missing this cinematic concert experience would be inconceivable!
Princess Bride Ltd. All Rights Reserved.