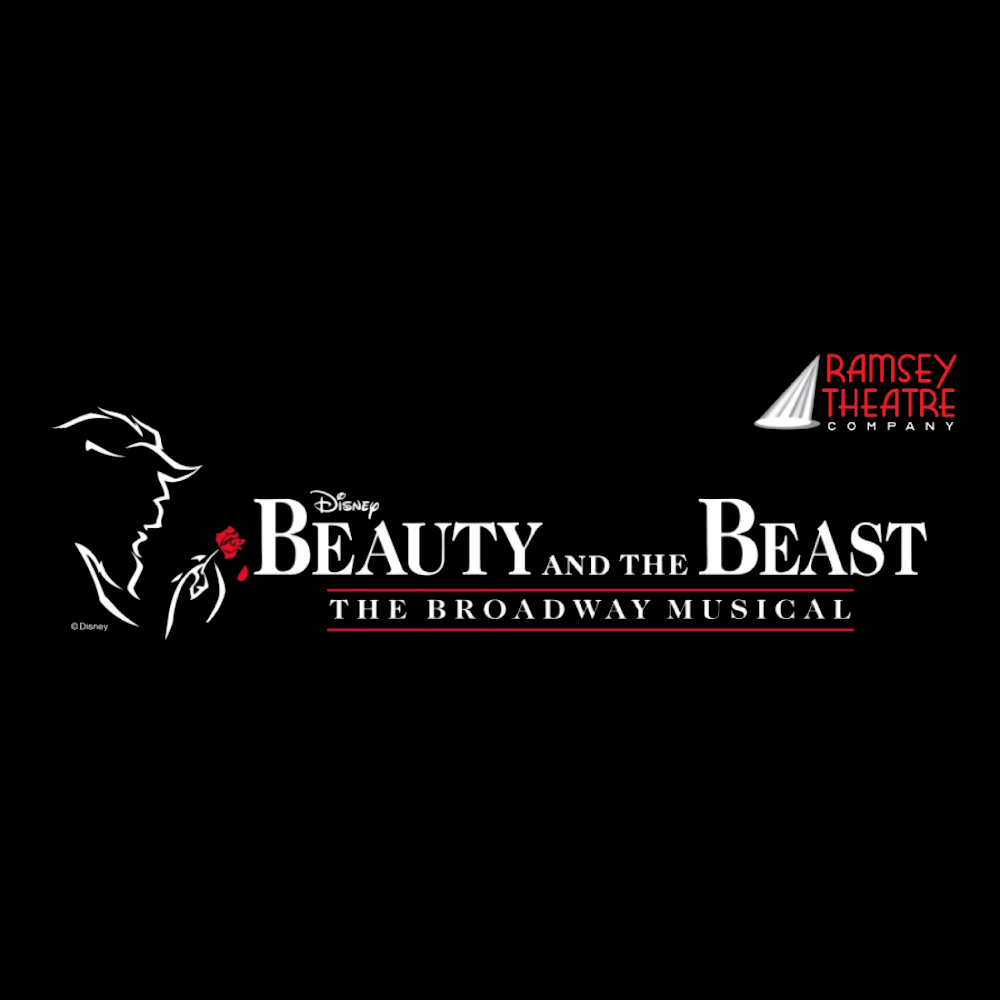 Ramsey Theatre Company's Production of
Disney's
BEAUTY AND THE BEAST
Music by

ALAN MENKEN

Lyrics by

HOWARD ASHMAN

& TIM RICE

Book by

LINDA WOOLVERTON
Originally Directed by
Robert Jess Roth
Originally Produced by
Disney Theatrical Productions
Original Music Supervision and New Arrangements by Michael Kosarin
Dance Music Arrangements by Glen Kelly
Orchestrations by Danny Troob
Disney's Beauty and the Beast is presented through special arrangement with Music Theatre International (MTI).
All authorized performance materials are also supplied by MTI. www.mtishows.com
Step into the enchanted world of Broadway's classic, Disney's Beauty and the Beast, an international sensation that has been produced in 37 countries worldwide. Based on the Academy Award-winning animated feature, the stage version includes all of the wonderful songs written by Alan Menken and the late Howard Ashman, along with new songs by Mr. Menken and Tim Rice. The original Broadway production ran for over thirteen years and was nominated for nine Tony Awards, including Best Musical.
The classic story tells of Belle, a young woman in a provincial town, and the Beast, who is really a young prince trapped under the spell of an enchantress. If the Beast can learn to love and be loved, the curse will end and he will be transformed into his former self. But time is running out. If the Beast does not learn his lesson soon, he and his household will be doomed for all eternity.
This "tale as old as time" is filled with spectacular costume and set opportunities or, even more simply staged, Disney's Beauty and the Beast offers a great opportunity to bring your entire community together for family theatre at its best.
This will be the first production from the Ramsey Theatre Company.
ANY VIDEO AND/OR AUDIO RECORDING OF THIS PRODUCTION IS STRICTLY PROHIBITED.
About Ramsey Theatre Company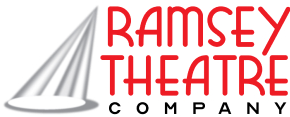 The Ramsey Theatre Company was formed through a generous gift from Robert P. Ramsey to produce professional-level musical theatre to serve the BRADD area. The Rita and Jim Scott Concert Hall at SKyPAC serves as its primary home. Principal roles are cast through nation-wide auditions with supporting roles filled by other accomplished actors. Orchestra Kentucky takes the place of honor in the Robin and David Ciochetty orchestra pit.
June 23rd and June 24th
7:30PM
---
Series Sponsor: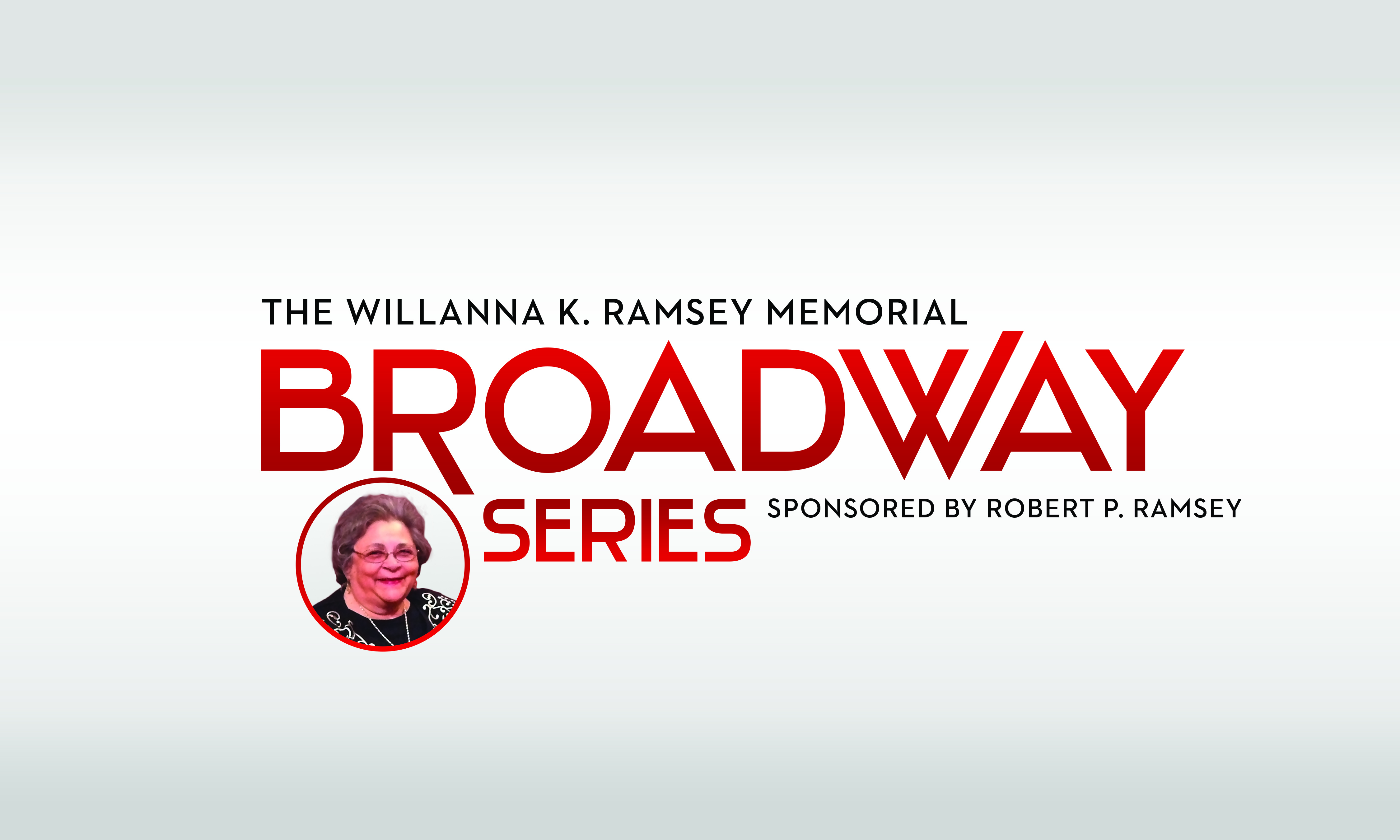 Show Sponsor:
Co-Sponsor:
English Lucas Priest and Owsley, LLP
Kentucky Tourism, Arts & Heritage Cabinet
Costume Sponsor:
Broadway Breakfast Sponsor:
Elise Charny (Director)
Elise is a native of Bowling Green, holds a master's degree in Theatre Education from Emerson College in Boston, Massachusetts and a BA in Performing Arts with a concentration in Acting from Marymount Manhattan College in NYC. Elise became Artistic Director of BG OnStage in 2014 and merged with SKyPAC in 2020. BG OnStage continues to bring quality, educational theatrical experiences to thousands of children each year. Elise has taught Theatre Appreciation at WKU and was the Entertainment Reporter on the original SOKY Sunrise team with WNKY. She has directed over 35 productions and is beyond thrilled for this production of Beauty and the Beast to be her directorial debut with the Ramsey Theatre Company. Elise graciously thanks Mr. Ramsey for making her dreams come true and thanks Jeff Reed for encouraging her to keep dreaming! Awards: 2015 BG Human Rights Commission, Women of Achievement in the Arts. TV/Film: "Law and Order: SVU", "CSI: New York", "The Avengers", "The Amazing Spider-Man". As much as she is a theatre nerd, Elise's greatest co-production is with her husband Steven….. their daughter, Eleanor. Her greatest role to date is Momma.
Jeff Reed (Music Director/Conductor)
Reed has been bringing back memories as music director of Orchestra Kentucky since he founded it in 2000. Reed has worked with Rachel Barton Pine, Air Supply, BJ Thomas, Chuck Barris, Larry Gatlin, Paul Williams, Jimmy Webb, Peter Tork, Glen Campbell, Keith Emerson, Neil Sedaka, Marilyn McCoo and Billy Davis, Jr., Mary Wilson, Melissa Manchester, Chris Young, Sara Evans, Matthew Morrison, Bill Gaither, Sandi Patty, Larnelle Harris, Steve Green, and many others in appearances with his own orchestra and orchestras in Milan (Italy), St. Petersburg (Russia), and South Korea. Reed has twice appeared with the Royal Philharmonic at London's Royal Albert Hall at the specific request of Neil Sedaka. In 2015, the University of Louisville named Reed its Alumni Fellow for the School of Music in recognition of his distinguished work in his chosen field. In 2008, he received the Jefferson Award for public service in South Central Kentucky. Drawing on his legal education and experience, in 2020, he assumed the role of president and CEO of Arts of Southern Kentucky, a nonprofit corporation that manages the Southern Kentucky Performing Arts Center in Bowling Green, Kentucky.
Léa Schenk (Stage Manager)
Léa Schenk is a senior at WKU pursuing BFA in Theatre. She has been Stage Managing around the world, mainly in France and here in Kentucky. She prides herself in being a renaissance woman, having experience in many aspects of the performing arts and technical theatre. As a performer you may have seen her onstage at Revolution 91.7's Mayhem Music Festival, WKU's Menagerie Opera Gala or WKU's Little Women The Musical in the role of Jo March. She has been stage managing since her high school years at the Youth Performing Arts School in Louisville where she stage managed shows such as Mamma Mia! and multiple Dance Concerts and WKU's Fools. She last stage managed The Addams Family with BG Onstage and is honored to be a part of the inaugural production of Ramsey Theatre Company. She would like to thank her wonderful Stage Management Team and her angel cat, Sam.
Kendall Jennings (Assistant Stage Manager)
Kendall is a Senior at Western Kentucky University, where she is pursuing a BFA in Theatre and a Minor in Arts Administration. She has been doing theatre for the last six years and loves being involved in stage management!
Rileigh Gossett (Production Assistant)
Rileigh Gossett has been participating in acting and theatre since she was a kid and is excited to join the production team for this show. Her experience includes crew/production, singing, live performance, and film acting. She is honored to participate in this show before heading to SCAD in the fall to become a Film Major.
Ashleigh Keefer (Choreographer)
Ashleigh graduated in May 2008 from Western Kentucky University with a minor in Dance and a major in Psychology where she was a member of the WKU Dance Company. She then completed her B.A. in Dance from WKU in 2010. Later Ashleigh was a performer and soloist in the "Overseas" Dance tour through Italy in the summers of 2008 and 2010. Ashleigh is a member of the National Dance Educators Organization as well as a Tennessee Dance Association Member. She is an ABT® Certified Teacher who has completed the ABT® Teacher Training Intensive in Primary through Level 3 of the ABT® National Training Curriculum in NYC. She has won many awards for her choreography, her pieces have been selected to perform in the Tennessee Dance Association Gala several years, Inside Choreographer Showcase in Chicago, Illinois, and she has choreographed for local/regional/national theatre and musical companies. Most recently Ashleigh took over ownership for SOKY Dance Arts school in Bowling Green, Kentucky and continues to consult in the dance industry, judge for dance competitions, and teach and choreograph nationally.
Carlie Rubilee Hardin (Assistant Choreographer)
At SOKYDA, Carlie trained under Ashleigh Davis Keefer, Clifton Keefer Brown, Eric Rivera, Angelica Burgoss Rivera, Roshunda Brown, Ashley Benge, Victor Alexander, Roberto Sifontes and numerous other guest artists. Carlie attended the 'Deeply Rooted Chicago' Summer Intensive-training under Artistic Direction/Instruction of Nicki Springer and choreography from Kevin Iega Jeff, specializing in modern, ballet, and South African dance. Carlie was a also a member of FOUND Movement Company based out Nashville in 2016. In Spring of 2018, Carlie earned a scholarship to the Institution of American Musical Theatre. That fall, she moved to New York City and received training and choreography from Nicholas Cunningham, Deanna Doyle, Jennifer DiNoia, Lindsey Lancaster, Michael Minarik, Marni Raab, Sara Ford, Andrew Glant-Linden, kenneth Kanter, Tonna Miller, and a large variety of guest Broadway instructors. After graduating the 2-year IAMT program, Carlie moved home with the pandemic and now teaches at SOKYDA where she grew up and continues her dance education through online courses so that she can continue to grow as a teacher.
Alan White (Stage Combat Coordinator)
Alan White (they/them) is a multidisciplinary theatre creator who has been performing on stage and screen in hundreds of performances. Alan has performed roles in new and classic works with Theatre Espresso, The New England Shakespeare Festival, Commonwealth Shakespeare Company, and contemporary, Central Square theatre, Wheelock Family theater and Swine Palace to name a few. When choreographing stage violence Alan prioritizes first the safety of everyone involved, then looks to who the characters are to create the movement phrases that best help tell the story of this moment in the world of the play. Alan earned an MFA from LSU and is currently an Assistant Professor of Acting at Western Kentucky University.
Tiffany Gilly-Forrer (Intimacy Choreographer)
Tiffany (she/her), MFA, is grateful to serve as Intimacy Choreographer for this show. She believes strongly in empowering consent culture in the theatre for all ages and that everyone should feel safe, empowered, and creative in the theatre, regardless if they are making long-distance intense eye-contact, giving high-fives, offering hugs, or kissing. Tiffany studied Theatrical Intimacy Education with the co-founder of TIE, Laura Rikard, and has earned her Intimacy Captain Certification from Intimacy Coordinators of Color. She is a certified instructor of Seven Pillars Acting, has taught acting, voice, and film to students across the country, and both her and her spouse, Chris, are travel enthusiasts with two exceptional cats. www.tiffanygillyforrer.com
Brooklyn Sabara (Wig Supervisor/Prosthetics)
Brooklyn is a theatre artist who studied at Western Kentucky University. She loves experiencing the different sides of theatre whether it's on stage, behind the curtain, or tangled in the hair! She hopes to continue her own theatre education as well as spread her knowledge to others.
Jeff Petrocelli (Sound Designer)
Renowned sound designer Jeff Petrocelli brings over 25 years of experience and a stellar reputation to the Ramsey Theater Company's inaugural production of "Beauty and the Beast." With a profound understanding of the power of sound, Mr. Petrocelli has garnered nationwide recognition and acclaim, including four prestigious Emmy Awards. With an unparalleled ability to create immersive sonic landscapes, Jeff Petrocelli is set to elevate the theatrical experience for audiences, breathing life into every scene with his meticulous attention to detail and innovative approach. As a true master of his craft, Jeff Petrocelli weaves a symphony of sound that captures the essence of the beloved tale, enhancing the magic and enchantment on stage. Prepare to be captivated by the auditory marvels that Jeff Petrocelli will unveil, as he brings his unparalleled expertise to the Ramsey Theater Company's unforgettable production.
Aaron Goodwin (Lighting Designer)
Aaron Goodwin is a highly skilled and experienced lighting designer with a passion for enhancing live performances through his creative lighting displays. With a major in Theatre, Lighting Design from Western Kentucky University, Aaron has honed his expertise in the entertainment industry. He has worked as a moving light technician at Pulse Lighting, LLC, where he played a crucial role in establishing the Technical Service Department, saving the company substantial costs on repairs. Aaron has also served as a lighting designer at renowned venues such as The Cannery Ballroom, Mercy Lounge, and High Watt, where he skillfully created captivating lighting setups that complemented artists' performances. His technical proficiency extends to audio engineering and maintaining audio and lighting equipment. Throughout his career, Aaron has toured with notable bands, including Cage the Elephant, Portugal. the Man, and Modest Mouse. With his Level II Robe Advanced Technical Training certification, Aaron is equipped with the knowledge and expertise to bring the Ramsey Theatre Company's productions to life with his exceptional lighting designs.
Staff and Crew for Ramsey Theatre Company's production of Disney's Beauty and the Beast
Director……Elise Charny
Choreographer……Ashleigh Davis Keefer
Set Provided by Front Row Theatrical
Costumes Provided by Costume World Theatrical, Deerfield Beach, FL
Technical Director…….Scott Gardner
Lighting Designer……Aaron Goodwin
Sound Designer…..Jeff Petrocelli
Wig Supervisor/Prosthetics……Brooklyn Sabara
Production Stage Manager…….Lea Schenk
Stage Manager…….Kendall Jennings
Stage Manager/Production Assistant…….Rileigh Gossett
Assistant Choreographer…….Carlie Rubilee Hardin
Dance Captain…….Cass Resch
Stage Combat Coordinator…….Alan White
Intimacy Coordinator…….Tiffany Gilly-Forrer
Music Supervision/Rehearsal Accompanist…….Emily Petty
Production Flyman…….Kevin Slusher
Production Carpenter……. Patrick Duncan
Spot Operators……. Wyatt Dunning, April Pearson
Sound Operator…….Matt Cox
Production Props Master…….Ruth Sowers
Production Wardrobe Supervisor…….Ally Brunk
Assistant Wardrobe Supervisor……. Rachel Atkinson
Ms. Pellecchia's Dresser…… Clarissa J. Moore
Mr. McFarland's Dresser……. Claude Airall
Conductor……Jeff Reed
Accompanied by Orchestra Kentucky