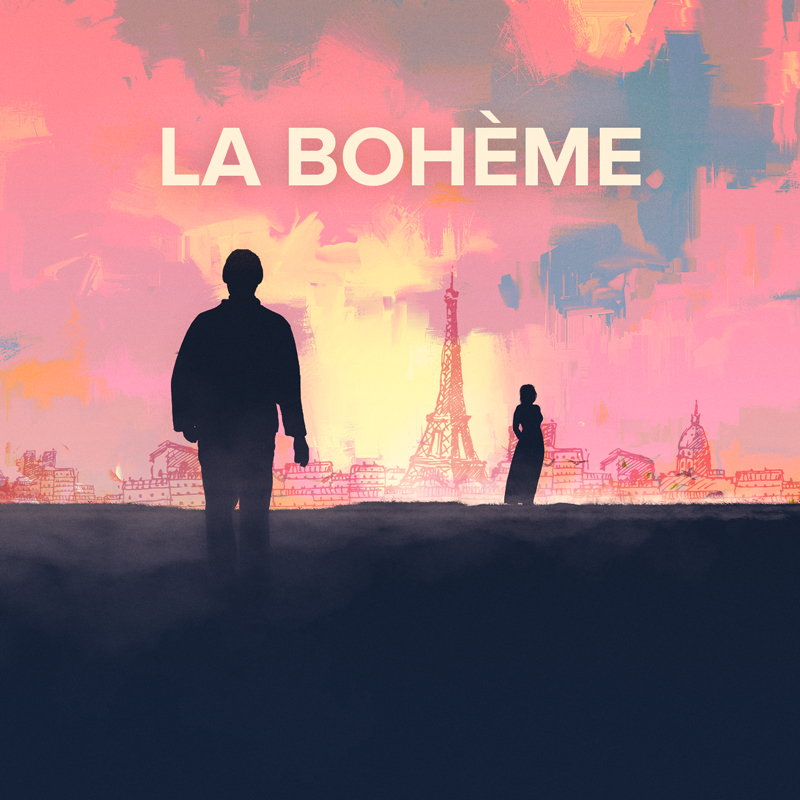 University of Kentucky Opera Theatre and OperaLex present

LA BOHEME

Music by Giacomo Puccini
Libretto by Luigi Illica and Giuseppe Giacosa
---
Executive Producer
EVERETT MCCORVEY

Director
RICHARD GAMMON

Conductor
JOHN NARDOLILLO

Associate Stage Director
CASSEY KIVNIC
Scenic Design*
JULIA NOULIN-MERAT

Lighting Design
TANYA HARPER

Costume Design*
ARIZONA OPERA
KATHLEEN TROTT

Vocal Coach
DR. TEDRIN BLAIR LINDSAY
CLIFF JACKSON

Director of Production
STEPHANIE O'REAR
*Costumes for La Boheme were realized at the Arizona Opera Costume Shop and are owned by Arizona Opera
*Set and Props Courtesy of TRI-CITIES OPERA COMPANY, INC.
A Letter from the Producer
Dear Friends,
Welcome to the 66th season of UK Opera Theatre! Every year I look forward to the new class of singers who will grace the grounds of the University of Kentucky, and this year is no exception. Because of the strength and prestige of the Alltech Vocal Scholarship Competition, we have been able to recruit some of the finest young singers in the United States. I look forward to introducing them to you as we journey through our 2020 season.
It has been a difficult and challenging two years as we have wrestled with the challenges of the pandemic. I can tell you that throughout the pandemic, students have wanted to be in school and they have wanted to find ways to continue to participate in our academic and performance programs.
We have been successful, through the help of President Eli Capilouto, Dean Mark Shanda and School of Music Director Stan Pelkey, we have remained vigilant and intentional about insuring the safety and health of our students. We are proud of what we have been able to accomplish.
Please mark your calendar for Sunday, March 6, as we host the 17th Annual Alltech Vocal Scholarship Competition. Many of the singers that you are hearing today are Alltech Scholarship recipients and we are pleased that you have the opportunity to hear them!
Please also be sure to get your tickets for the 30th Anniversary of It's A Grand Night for Singing! The performances will be held at the Singletary Center for the Arts.
A huge thank you to the staff of the Lexington Opera House and Board Members of the Lexington Opera House Fund Board. We are so happy to be here in the Lexington Opera House, and the staff and members of the Lexington Opera House Fund Board have been integral in making this return a reality. Thank you also to the OperaLex Board and Bravo Members for their untiring yearly efforts to make opera in Lexington possible.
To our beloved audience, thank you for your continuing enthusiasm for this program. Your support has done, and will continue to do, amazing things to aid us in supporting the dreams of our talented students.
Sincerely,
Everett McCorvey
Director of UK Opera Theatre
Dear Friends of UK Opera,
OperaLex is dedicated to the success of the UK Opera Theatre. In addition to the generous funding by the School of Music and the College of Fine Arts, OperaLex enables the kind of spectacular productions you have come to expect, time and time again. Our organization and its Board of Directors, through various fundraising ventures and your giving generosity, also provide support for the educational activities that are a hallmark of UK's program.
Soon, you will have the opportunity to join OperaLex through a new comprehensive MEMBERSHIP program contributing directly to OperaLex, and through us, UK Opera Theatre. And we are excited to tell you that Encore is back. This amazing Gala, featuring delightful food and wine, dancing, and entertainment by many of those fabulous opera students you see tonight, is scheduled for Friday, September 23 at the new Central Bank Center. We hope you will join us!
We are so pleased that you are here tonight to experience once again an unmatchable UK Opera performance.
W. Harry Clarke, President
OperaLex
What is the secret to the enduring popularity of Puccini's La Bohème? From its premiere at the Teatro Reggio in Torino, Italy on 1 February 1896, it quickly became one of the most frequently produced operas in the repertoire, perennially fresh, incredibly beautiful, and totally absorbing from beginning to end. Singers love it, audiences love it, and box offices love it. It even spawned a Broadway musical, Jonathan Larsen's Rent. What is it about this opera that has made it so beloved?
Perhaps it's the opera's youthful vitality. It's all about young people trying to make meaningful lives for themselves as free spirits in Paris, full of hijinx and shenanigans, free love and free dinners, love at first sight and breakups that last months. They shamelessly mock their elders and flaunt themselves. This opera reminds us what it is like to be young.
Perhaps it's the opera's slice-of-life realism. Everyday concerns like paying the rent, getting your girlfriend back, and obtaining adequate healthcare are the substance of the episodic story. Just as in real life, rapturous joys share the stage with heart-wrenching sorrows. Realistic touches abound in the music, too. Consider how the hollow, open chords at the beginning of Act 3 portray the cold and quiet pre-dawn winter morning. Think how the crowds bustle all through Act 2, framing the main characters' activity intimately within a big-city Christmas Eve. Notice how the delicate solo strings at the end of Act 4 show how tenuously Mimì is clinging to life.
Perhaps it's the opera's kaleidoscopic variety. It is comprised of equals parts comedy, romance, and pathos, all mixed together, and the music captures those modes in all their broad strokes and nuanced subtleties as they swirl by like a parade of fascinating moments.
Perhaps it's the gorgeous music itself. One of the hallmarks of Puccini's style was the "pregnant melody," or the idea that every moment of the opera should be filled with memorably beautiful tunes. And yet the dialogue and action all seem to take place in real time — how can this be? Puccini's brilliant dramaturgical solution was to give the melody to the orchestra at all times, with the singers intoning the words, frequently joining in then leaving from the orchestra's never-ending flow. Thus, Puccini served the story's real time events within the time-expanding exigencies of music, meanwhile exponentially enhancing the stupendous beauty of the melodies because his skill as a luscious, over-the-top orchestrator was equally sublime.
And finally, perhaps it's the opera's characters, at least one of whom anybody can relate to. Whether the emotional Rodolfo or the impetuous Marcello, the melancholy Mimì or the flirtatious Musetta, the introverted Colline or the extroverted Schaunard, or even the aging working-class schlub Benoit or the aging moneyed-class booby Alcindoro, there's someone for everyone in this opera.
All of these are reasons why we continue to love La Bohème after more than 125 years, compelled by the ravishing sounds of Puccini's characters laughing, weeping, living, and dying.
By Tedrin Blair Lindsay, Ph.D.
MIMÌ
Marquita Richardson (Friday & Saturday evening)
Faith Fobeneh (Thursday & Saturday matinee)
MUSETTA
Erica Gabriel (Friday & Saturday evening)
Erin M. Hannon (Thursday & Saturday matinee)
COVER
Katie Copeland
RODOLFO
Houston Tyrrell (Friday & Saturday evening)
Wagner Mauricio Pástor (Thursday & Saturday matinee)
MARCELLO
Jeremy Kelly (Friday & Saturday evening)
Clement Baloyi (Thursday & Saturday matinee)
SCHAUNARD
Jeffrey Todd (Friday & Saturday evening)
Aaron Eaves (Thursday & Saturday matinee)
COLLINE
Parker Van Houten (Friday & Saturday evening)
Mason O'Brien (Thursday & Saturday matinee)
COVER
Harrison Hancock
BENOIT/ALCINDORO
Christopher Burchett
PARPIGNOL
Robert S. Powless (Friday & Saturday evening)
Broderick Beighle (Thursday & Saturday matinee)
SERGEANT
Harrison Hancock
---
CHORUS
Soprano I
Katie Copeland
Katherine Ivie
Elyse Pilcher
Hailey Wells
Briana Johnson
Grace Platt
Casey Mayo
Soprano II/Alto
Anazha Santiago
Courtney Porter
Emily Wrede
Andrea Salazar
Alyssa Bunnell
Tenor
Broderick Beighle
Drew Pungratz
Robert S. Powless
Ethan Mooney
Andrew Tran
Thomas Francisco
Baritone/Bass
Fernando Franco
Harrison Hancock
Austin Morgan
Thomas Swerczek
Clinton Garrison
John Patrick Brown
Sergio Enciso
---
CHILDREN'S CHORUS
Dae Lancaster
Brady Fields
Janeway Howard
Harper Rice
Caroline Nalli
Inara Jordan
Megan Haubenreich
Hadley Nardolillo
Virginia Nardolillo
Magnolia Rose Hardt
UNIVERSITY OF KENTUCKY SYMPHONY ORCHESTRA
John Nardolillo, Music Director and Conductor
VIOLIN I
Madison Jones, Jan Karon Concertmaster
Stanley Kuo
Reisa Fukuda
Serena Hutchens
Marvelous Igwe
Guillermo Arias
VIOLIN II
Jurang Kim *
JeeHee Kang
Nathan Jones
Connor Taylor
Emma Browning
Ian Ho
VIOLA
Guanliang Zong *
Darryl Manley
Lilly Martin
Mary Meyers
CELLO
Jerram John *
Kevin He
Alvaro Munoz
Jackson Arnold
BASS
Benjamin Bossert *
Tala Glass
FLUTE
Shannon James *
Lindsey Kovach
OBOE
Camilla Yoder *
Colleen Scott
CLARINET
Braylee Parry *
Savannah Starks
John Azpuru
BASSOON
Alexis Cerise*
Nathan Munster
HORN
Briana Childers *
Jacob Snider
Andrew Bernal
Ben Humphries
TRUMPET
Madison Barton *
Victor Yuen
TROMBONE
Tyler Greer *
Kyle Davidson
Sam Nagel
TIMPANI
Ford Smith*
PERCUSSION
Adria Shields
Chris Lucero
James Beckner
Zach Miller
HARP
Elaine Cook *
BANDA
PICCOLO
Kathleen West
Mark Gaddie
Trumpet
Madison Glafenhein
Neal Grindstaff
* Principal
Producer
Dr. Everett McCorvey
Stage Director
Richard Gammon
Conductor
John Nardolillo
Associate Director
Cassey Kivnick
Set Design
Julia Noulin-Mérat
Lighting Design
Tanya Harper
Assistant Lighting Designer
Danny Bowling
Costume Designer
Kathleen Trott
Costume Director
Tracy Barber-Ward
Wig and Makeup Designer
Conor Donnelly
Vocal Coaches
Dr. Tedrin Blair Lindsay, Cliff Jackson
Asst. Vocal Coach
Nan McSwain
Chorus Master
Dr. Catherine Clarke Nardolillo
Children's Chorus Director
Mary Joy Nelson
Child Wrangler
Katherine Ruch


Children's Associate
Cellia Shaffer
UKOT Program Coordinator
Dr. Zackery Morris
Director of Production/PSM
Stephanie O'Rear
Production Stage Manager
Megh Jennings-Posner
Assistant Stage Managers
Jessica Bayne, Daniel Dennert, Natalie Monell
Asst. Conductors
Sean Radermacher, Merih Ozden
Production Carpenter
Joe Harris
Marketing
Jennifer Sciantarelli, Mark Mozingo, Shaan Azeem
SCFA Production Manager
Tanya Harper
Props Manager
Lisa Hardin

The Opera House Fund is a not-for-profit community service founded in 1974 to assist Lexington Center Corporation in the funding of the design, construction and restoration of the 1886 Lexington Opera House.
The Opera House Fund assists in capital improvements at the theatre, subsidizes local arts organizations for Opera House related expenses and supports Broadway Live and Variety Live programming.