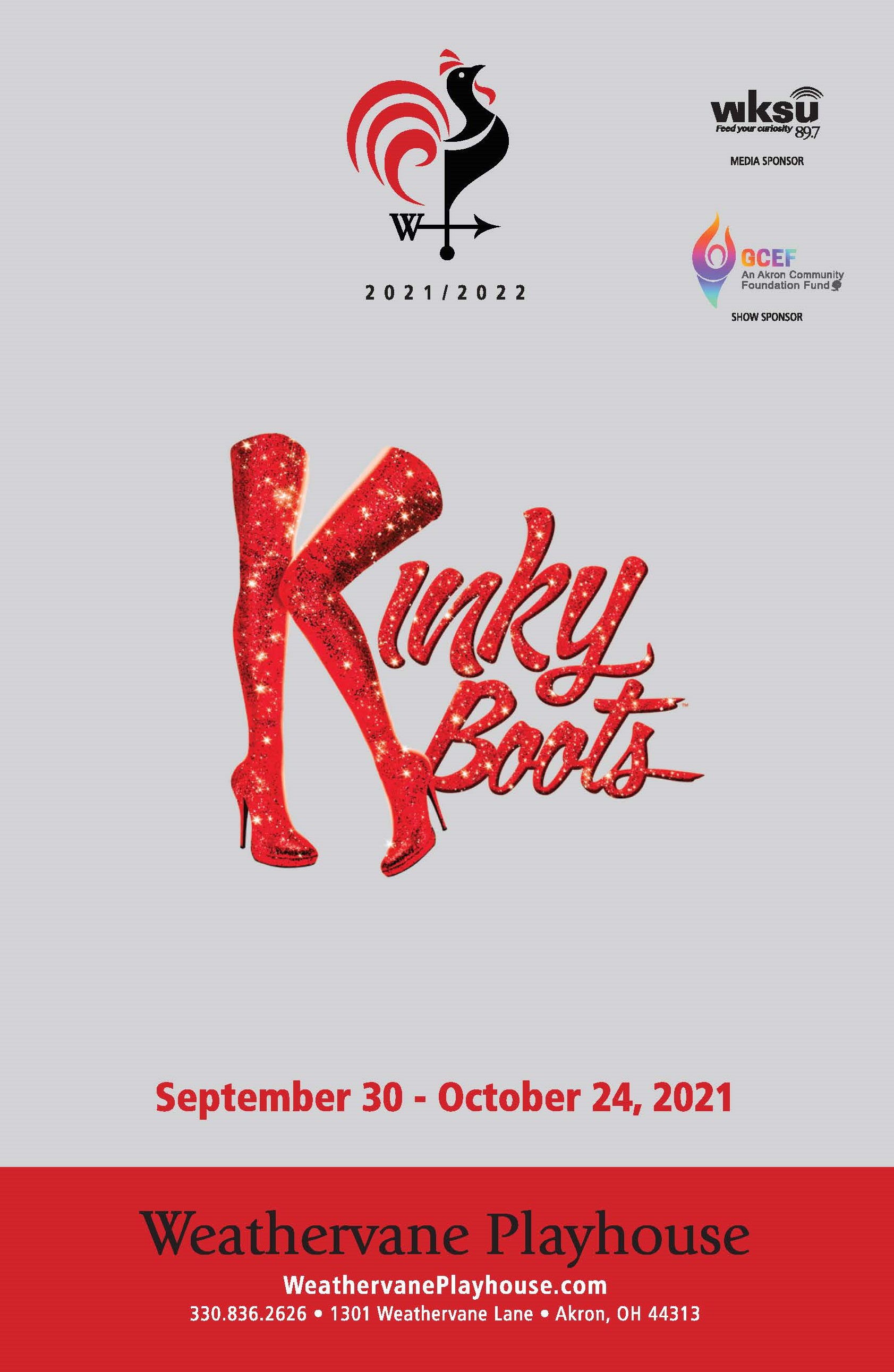 2021-2022 Mainstage Series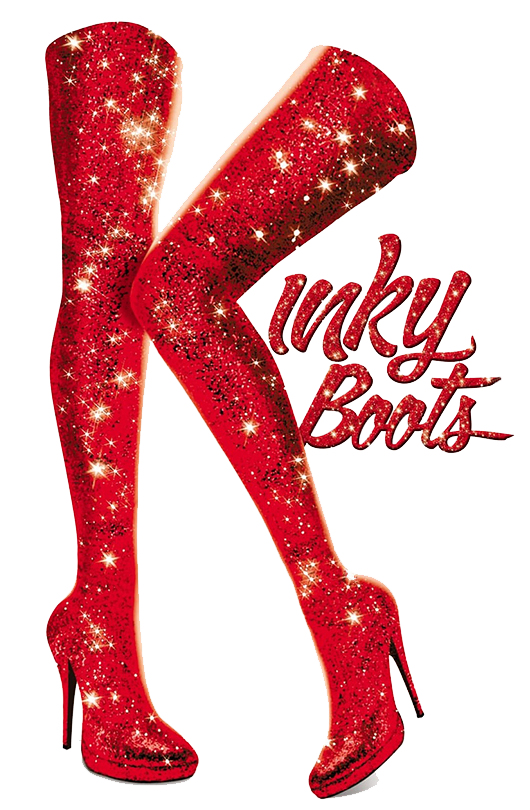 MUSICAL
Book by
Harvey Fierstein
Written by
Geoff Deane
and
Tim Firth
Music and Lyrics by
Cyndi Lauper
Original Broadway Production
Directed and Choreographed by
Jerry Mitchell
Based on the Miramax motion picture
Kinky Boots
---
Directed by
MELANIE YC PEPE
Choreographer
KEVIN LAMBES
---
Stage Manager
JEANNIE CLARKSON

Musical Director
JOHN EBNER

Scenic Designer/Technical Director
RICHARD MORRIS, Jr.

Costume Designer
JASEN J. SMITH

Lighting Designer/Video Designer/Master Electrician
JACK-ANTHONY INA

Sound Designer
CHRISTOPHER PEPE

Properties Designers
PAMELA PARKS COSTA

Properties Designer
SCOTT K. DAVIS

Assistant Choreographer
JESSICA HARTLEY

Assistant Stage Manager
AIDEN BRUECK

Associate Costume Designer
STERLING PERRY

Makeup Designer
SAMANTHA ECHO

Wardrobe Supervisor
LAINEY BODENBURG

Dialect Coach
CHUCK RICHIE

Vocal Coach/ Rehearsal Pianist
RONALD HAZELETT

Assistant Technical Director
KATHY KOHL

Assistant Technical Director/Master Carpenter
CHARLIE MORTON

House Sound Technician
JOHN COYNE

KINKY BOOTS is presented through special arrangement with Music Theatre International (MTI).
All authorized performance materials are also supplied by MTI. www.MTIShows.com
---
This program is sponsored by the
Gay Community Endowment Fund
of Akron Community Foundation.
| | | |
| --- | --- | --- |
| Charlie | | RYAN CIRIACO |
| Lola | | ANTHONY WOODS-MITCHELL |
| Lauren | | HEATHER PALCKO |
| Nicola | | AUDRIE RYAN |
| Don | | ADRIAN GO |
| George | | ROBERT PHILLIPS-BROWN |
| Pat | | DANIELLE GRUNENWALD GRUHLER |
| Trish | | ALLISON HARRIS |
| Harry | | JORDAN POTTER |
| Richard | | KENNETH HARDMAN |
| Simon Sr. | | BRUCE ALEXANDER, RANCE MACK, JAE SNOW, or VINCENT G. TAYLOR |
| Mr. Price | | GARY DAVIS |
| Young Charlie | | MICHAEL YOUNKIN |
| Young Lola | | KENIYAH MERRITT |
| Italian Stage Manager | | APRIL DEMING or MARCI PAOLUCCI |
Angels
BILLY CUMMINS
PETER KOLODZIEJ
CONNOR MAST
JONATHAN MERECHANT
NICK SOBOTKA
JACOB SCHAFER

Ensemble
JAY BOUGHNER
JORDAN BOUGHNER
EMMA GOUBEAUX
AYRON LORD
SPENCER MORGAN
JESSIE POLLAK
MELANIE SCOTT
Act I
Price & Son Theme
Ensemble
The Most Beautiful Thing
Mr. Price, Young Charlie, Nicola, Charlie, Young Lola, Company
Take What You Got
Harry, Charlie, Ensemble
Land of Lola
Lola, Angels
Land of Lola (Reprise)
Lola, Angels
Charlie's Soliloquy
Charlie
Step One
Charlie
Sex Is in the Heel
Lola, Pat, George, Angels, Lauren, Charlie, and Ensemble
The History of Wrong Guys
Lauren
Not My Father's Son
Lola, Charlie
Everybody Say Yeah
Charlie, Lola, Company
---
Act II
Entr'acte/Price & Son Theme (Reprise)
Ensemble
What a Woman Wants
Lola, Pat, Trish, Don, Women
In This Corner
Lola, Don, Pat, Trish, Ensemble
Charlie's Soliloquy (Reprise)
Charlie

Soul of a Man
Charlie
Hold Me in Your Heart
Lola
The History of Wrong Guys (Reprise)
Lauren
Raise You Up/Just Be
Lola, Charlie, Angels, Lauren, Don, Pat, Trish, Nicola, Company
John Ebner
Keyboards
Ronald Hazelett
Keyboards
George Dean
Guitar
John Chambers
Bass
Mick Shaull
Drums
James Boyd
Bob Brauning
Chris Capron
Dale Gilbert
Kathy Kohl
Richard Morris, Jr.
Charlie Morton
Ben Nieberlein
Phyllis Bernel
Melanie Hauer
Sarah Lavender Nees
Joanna Mack
Megan Nelson
Millie Keyser
Jasen J. Smith
Wardrobe supervisor: Laniey Bodenburg
Assistant wardrobe supervisor: Megan Nelson
Makeup crew: Abby Whitney
About the Show and the Creators
SPECIAL THANKS TO:
SAMANTHA ECHO, BALDWIN WALLACE UNIVERSITY, SUE WALLIN
And to:
LOWELL BIRD
DR. GEORGE & CATHERINE CSANYI
IAN HABERMAN
LISA ARMSTRONG
DALE GILBERT & MILLIE KEYSER
CANDACE BATES
NICOLE DEMING
JEANNINE HAAS
SEAN VOLLMAN
For their donations that were used to purchase some of the boots seen in the show.